Basel: Where Former Ball Kid Federer Has Won 10 Titles
Established in 1970, the Swiss Indoors Basel is one of three Swiss ATP Tour events alongside the Gonet Geneva Open and the Swiss Open Gstaad.
The ATP 500 would have been played this week if not for the COVID-19 pandemic.
ATPTour.com looks at five things to know about the tournament.
Honour Roll
Half of the 26 players to occupy the World No. 1 position in the FedEx ATP Rankings have competed in a Swiss Indoors Basel championship match. Hometown favourite Roger Federer leads the way with a tournament record 10 titles, while former top-ranked stars Ivan Lendl (1980-'81), Stefan Edberg (1985-'86, '88) and Jim Courier (1989, '95) won the event on multiple occasions.
Bjorn Borg (1977), John McEnroe (1990), Boris Becker (1992), Pete Sampras (1996) and Novak Djokovic (2009) also claimed single victories at the ATP 500. Another four former World No. 1 players — Ilie Nastase (1975), Mats Wilander (1982), Andre Agassi (1998) and Rafael Nadal (2015) — have finished as runner-up in Basel.
In doubles, five players share the titles record with four tournament victories. Bob Bryan and Mike Bryan own the team record with four team trophies (2002, '04, '07, '10), while Tomas Smid (1983-'84, '87-'88), Daniel Nestor (2003, '06, '09, '12) and Nenad Zimonjic (2009, '11-'12, '14) have also won the trophy on four occasions with multiple partners.
From Ball Kid To 10-Time Champion
For two years, Federer was a ball kid at his home event. The Swiss rode his bike to the tournament site and got the chance to share the court with the biggest stars in the game. Following the 1993 championship match, champion Michael Stich awarded Federer with a medal for his service to the event, a ball kid tradition that runs to this day.
"I loved being a ball boy here," Federer told Tennis TV. "I was able to see the best players in the world firsthand and see how they would prepare, how they would sweat, how they dealt with the pressure. They're good moments for me."
Five years after meeting Stich as a ball kid, Federer made his main draw debut against Andre Agassi in the 1998 first round. It took the Swiss eight years before he claimed his first Basel trophy. The 2000 and 2001 runner-up captured the Basel crown for the first time in 2006 with a straight-sets triumph against Fernando Gonzalez.
That tournament appearance marked the beginning of a dominant era for Federer at St. Jakobshalle Basel. Federer has reached the Basel final in every appearance he has made at the tournament since his first title run. Between 2006 and 2019, the 20-time Grand Slam champion made 13 tournament appearances, winning 10 titles from 13 finals with a 61-3 record.
Federer's Pizza Parties
Alongside the annual practice of presenting ball kids with medals to honour their work in Basel, Federer began his own tradition at the ATP 500 in 2006: post-final pizza parties. Since his first title run, the Basel native has hosted a pizza party with ball kids in every year he has reached the championship match. Fortunately for ball kids, Federer has made the final in every year he has competed at the event since he began the tradition.
Novak Ends Roger's Run
Federer entered the 2009 championship match chasing his fourth title and 20th consecutive win at his home event. But he was stopped by one of the brightest emerging talents on the ATP Tour: 22-year-old tournament debutant Novak Djokovic.
The pair was meeting for the fifth time in 2009 (tied at 2-2) and it was Djokovic who found a way to earn his third ATP Head2Head victory of the year against his rival in a three-set battle.
"It is an even bigger achievement than just a win, winning against him in his own city and his own country," said Djokovic. "I understand that there was a huge amount of pressure on him to win today… I think we played a great match and I am really satisfied with this week."
Djokovic returned the following year and booked another final meeting with Federer. On that occasion, the Swiss emerged victorious in three sets to move clear of Edberg and become the first player to win four Basel trophies.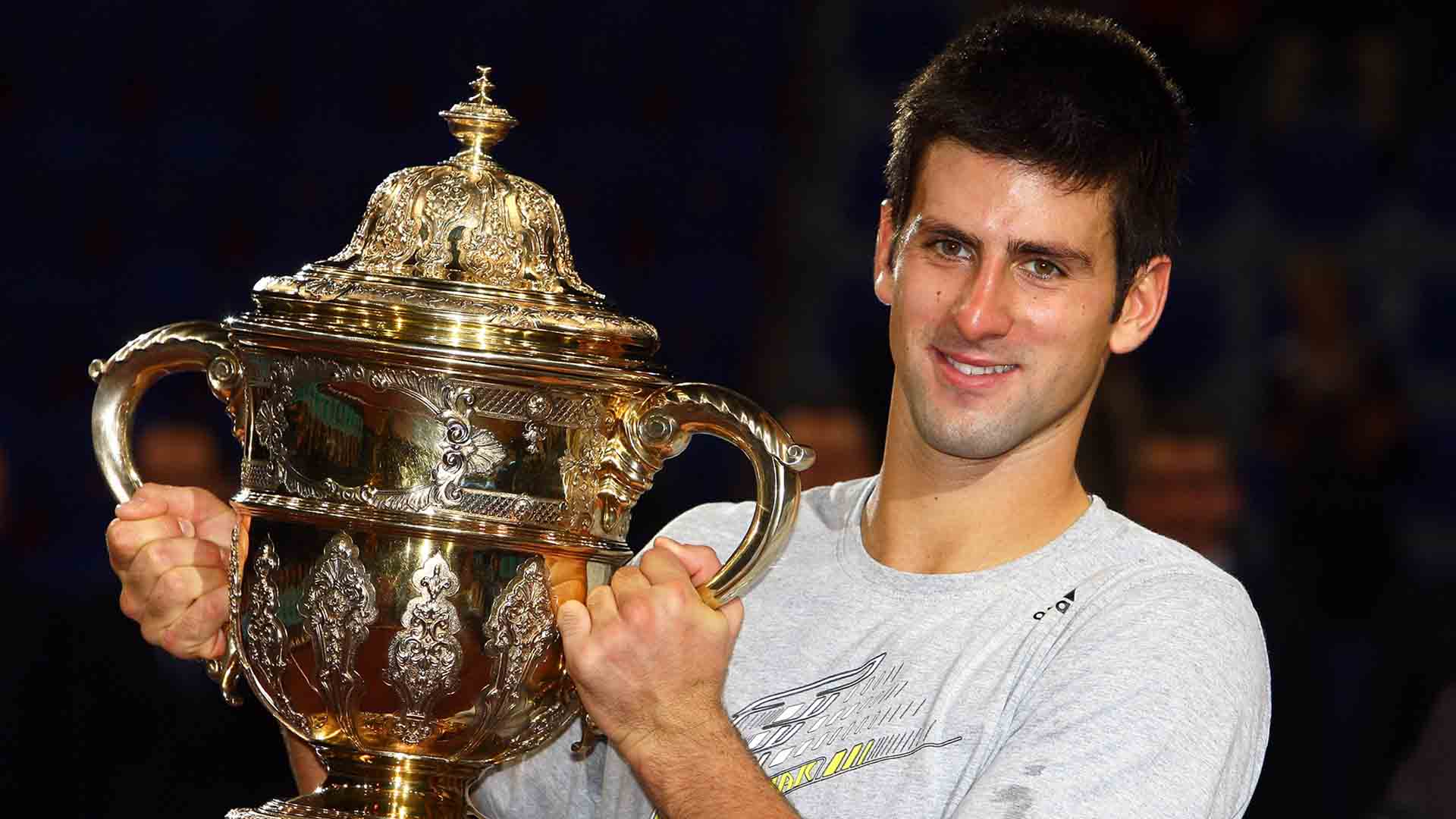 Del Potro Goes Back-To-Back In Basel
Since 2006, Federer has lost just three of his 64 matches in Basel. Juan Martin del Potro inflicted two of those defeats in back-to-back championship matches. The Argentine contested consecutive three-set finals against Federer in 2012 and 2013 and held his nerve late in deciding sets to claim multiple trophies.
"The fans were cheering for him a lot, but they also respected me. They made a fantastic atmosphere," said Del Potro after the 2013 final. "I think we played the best match of the tournament today."
Federer gained his revenge four years later in the 2017 final, rallying from a set down to deny the former World No. 3 a third title. The pair has met on four occasions at the tournament, with both players earning two victories.