Brain Game: How Being A Baseline Magnet Was Medvedev's Key To Success
Daniil Medvedev feels the strategic magnetism of the baseline.
Medvedev defeated Alexander Zverev 5-7, 6-4, 6-1 in the final of the Rolex Paris Masters Sunday by playing with superior court position in their inevitable flurry of bruising baseline exchanges. When we watch Medvedev hit the ball, we are mesmerised by his long, wieldy strokes that look more like he is swinging a heavy axe than a tennis racquet. It's essential to also look at where he is standing when he swings that metaphorical axe because it is often in a more advantageous place relative to the baseline than his opponent.
Rally Contact Point
Medvedev hit 27 per cent of his rally balls from inside the baseline, which was almost double that of Zverev's 15 per cent. A vast majority of these rally balls for Medvedev were struck from a zone within two metres inside the baseline where he dined on the superior geometry of the rectangular court to extend Zverev out wide, hitting forehands and backhands loaded with directional pressure.
Players typically trade baseline blows standing in a zone two metres behind the baseline, and this match was no exception. Zverev hit 50 per cent of his baseline shots from here, while Medvedev was at 46 per cent.
The last, deep contact zone starts two metres behind the baseline and extends all the way to the back of the court. This is where players retreat to find more time to defend. The problem is that it's almost impossible to attack from this far back, and it's another key battleground that Medvedev exploited.
The Russian only hit 27 per cent of his groundstrokes from this area, while Zverev was at 35 per cent. Zverev hit almost a third of his shots from this deep zone, where he typically found himself running and defending and falling further and further behind in the point.
Medvedev Rally Hit Points:
Zverev Rally Hit Points:
Depth
Playing up in the court also helped Medvedev land his shots deeper in the court as a result. Medvedev landed 89 per cent of his groundstrokes past the service line, which was superior to Zverev's 83 per cent. This gap was accentuated in the third set, in which Medvedev was at 90 per cent past the service line, while Zverev only managed 75 per cent as the finish line rushed forward in Medvedev's favour.
Power
With Medvedev hovering more around the baseline and taking the ball earlier, he was also able to hit the ball harder as a result. Medvedev's average groundstroke speed was 116 kph, with Zverev at 112 kph. In the third set it was 117kph for Medvedev and 110kph for Zverev. The German was standing too deep, hitting too short, and not employing enough power to make the Russian uncomfortable.
Backhands
As expected, the vast majority of points were traded through the Ad court with each player trying to break down his opponent's backhand wing. Medvedev hit 49 per cent of all groundstokes wide to Zverev's backhand, 14 per cent down the middle, and 37 per cent wide to the forehand.
On the surface, these backhand-to-backhand blows looked fairly even, but Medvedev constantly had an advantage because he was not getting pushed back. Overall, Medvedev made contact with his backhand inside the baseline 29 per cent of the time, which was far superior to Zverev's 10 per cent. Medvedev was leaning on his backhand, while Zverev was leaning off his.
Medvedev Backhand Hit Points: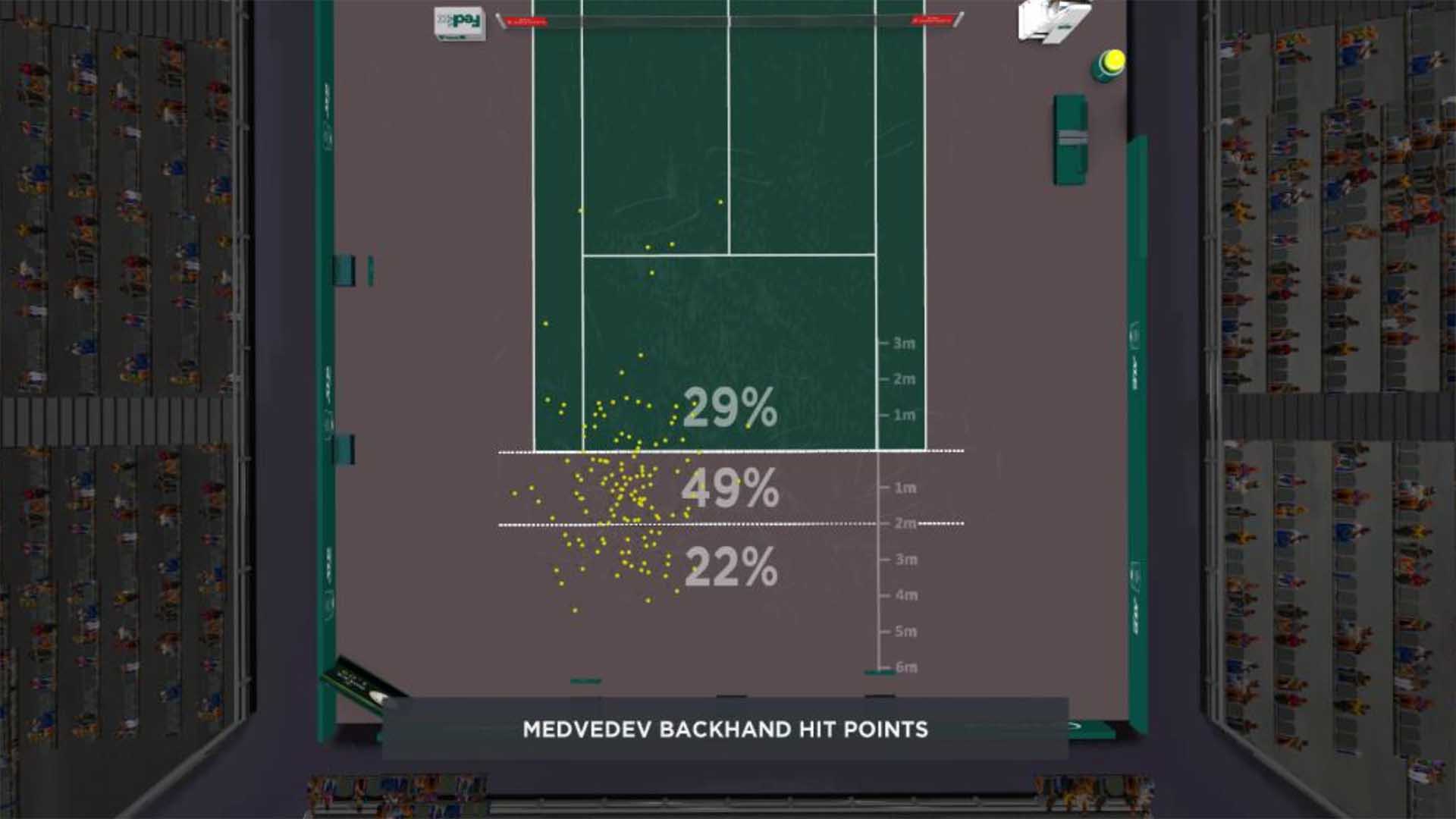 Zverev Backhand Hit Points: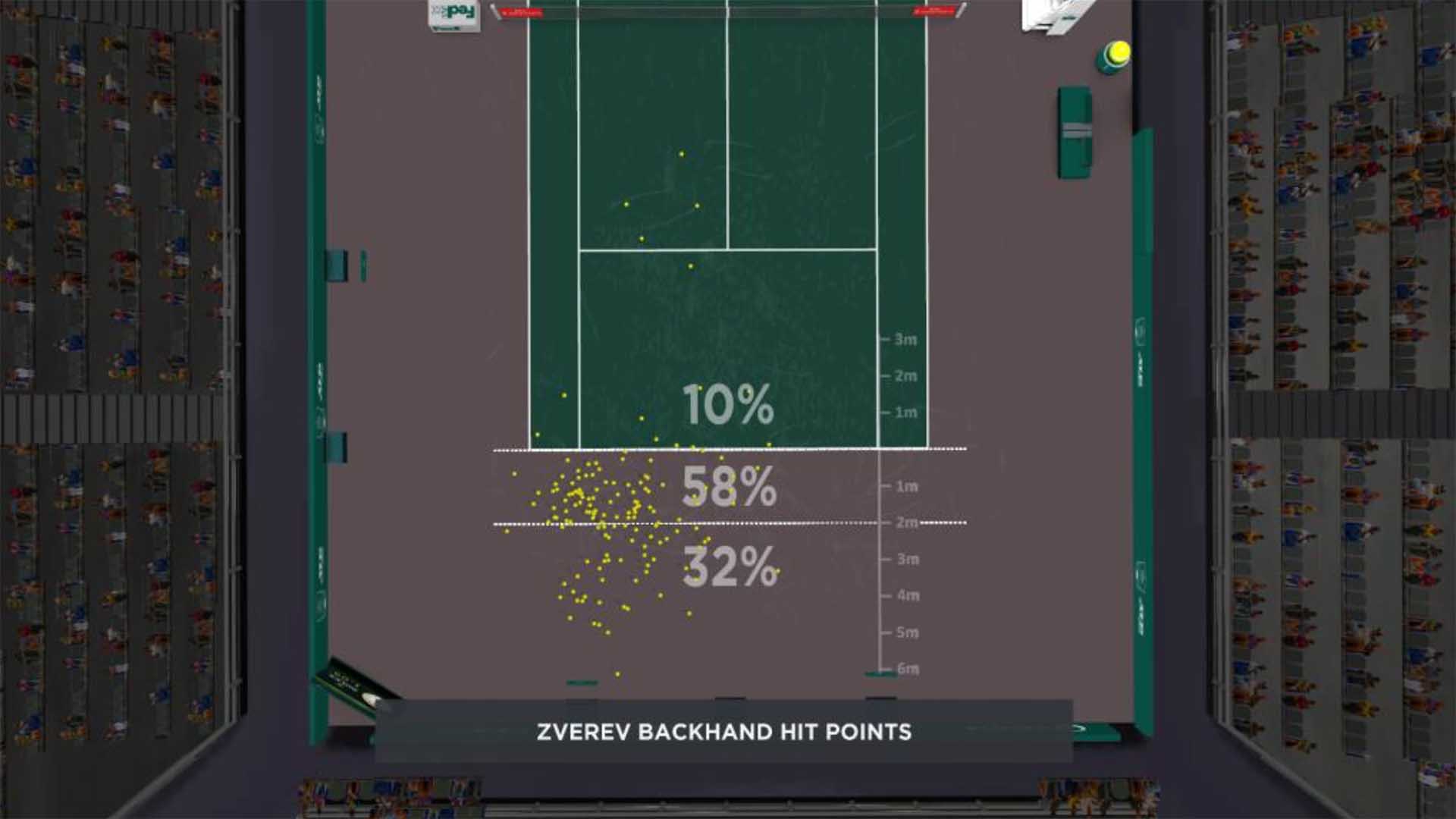 Another key factor was that Zverev simply hit too many backhands in the match. The German hit 183 backhands for the match and 162 forehands, giving him a surplus of 21 backhands. That's not a winning plan of attack. Medvedev hit 158 backhands and 175 forehands, giving him 17 more aggressive, penetrating forehands at his disposal.
The following breakdown from the match shows the superior speeds forehands deliver.
Average Groundstroke Speed

Forehands
• Medvedev=126kph

• Zverev=123kph
Backhands
• Medvedev=108 kph
• Zverev=105 kph
The end result is an accumulation of a lot of small battles that Medvedev won that helped pave the way to victory. Medvedev comparatively hit more forehands, hit them harder, and when he did hit backhands, he applied more pressure by standing further up the court.
How you hit the ball matters. So does where you hit it from.
– HawkEye data and visuals courtesy ATP Media