Preview: Stefanos, Andrey Face Moment Of Truth
The term "desperate times call for desperate measures" likely originates from the ancient Greek physician Hippocrates and the humanist scholar Erasmus, who is, by our unofficial reckoning, the second most famous person to have lived in Basel after Roger Federer.
Erasmus didn't have Tuesday night's Stefanos Tsitsipas- Andrey Rublev showdown in mind when he wrote (in Latin) malo nodo, malus quærendus cuneus in 1500, but the adage couldn't be more appropriate for the match. Both men lost their first matches at The O2 and will come into their Tuesday night throw-down desperate for a stay of execution.
Losing one's first two matches at the Nitto ATP Finals isn't the final nail in a player's coffin, but it's an ominous sign to be sure. The last time a man advanced after losing his first two matches was in 2006, when the Argentine David Nalbandian managed the feat. Since then, just one player—Kei Nishikori, in 2016—has advanced with a 1-2 record. Nishikori didn't lose his first two matches, just his first and third matches, both in three sets.
A win for either player would be a turning point. For, Tsitsipas, a patriotic Greek, it could be like the Battle of Marathon, in 490 B.C., when the outnumbered Greeks repelled the Persians; for Rublev, a proud Russian, a win could be like his Battle of Stalingrad, when the Russian army defeated the Germans, turning the tide of World War 2. The outcome of the match won't change world history, but it will be pivotal in determining who advances from Group London 2020.
Tsitsipas, 22, and Rublev, 23, are two of the brightest young stars in the game. But please don't refer to this match as a #NextGenATP matchup. The Greek made it quite clear recently in Paris that he's wearing big boy tennis shorts these days.
[WATCH LIVE 2]
"I would like to tell you that I'm not a Next Gen player any more," said Tsitsipas, who recently hung out with NBA star the "Greek Freak" Giannis Antetokounmpo . "I'm a proper adult now."
The not-so Next Gen matchup of Tsitispas, dubbed the "Jesus Christ of tennis" by Fabio Fognini, versus Rublev, or "Rubles" as he's sometimes called, figures to be a very even contest. The players have split four ATP Head2Head matches, with each man winning one match on a hard court and one on clay. The Greek star won their only indoor match, at the 2018 Next Gen ATP Finals in five sets. Rublev saved two match points, winning 9-7 in a third-set tie-break, in their first match on the ATP Challenger Tour in 2017.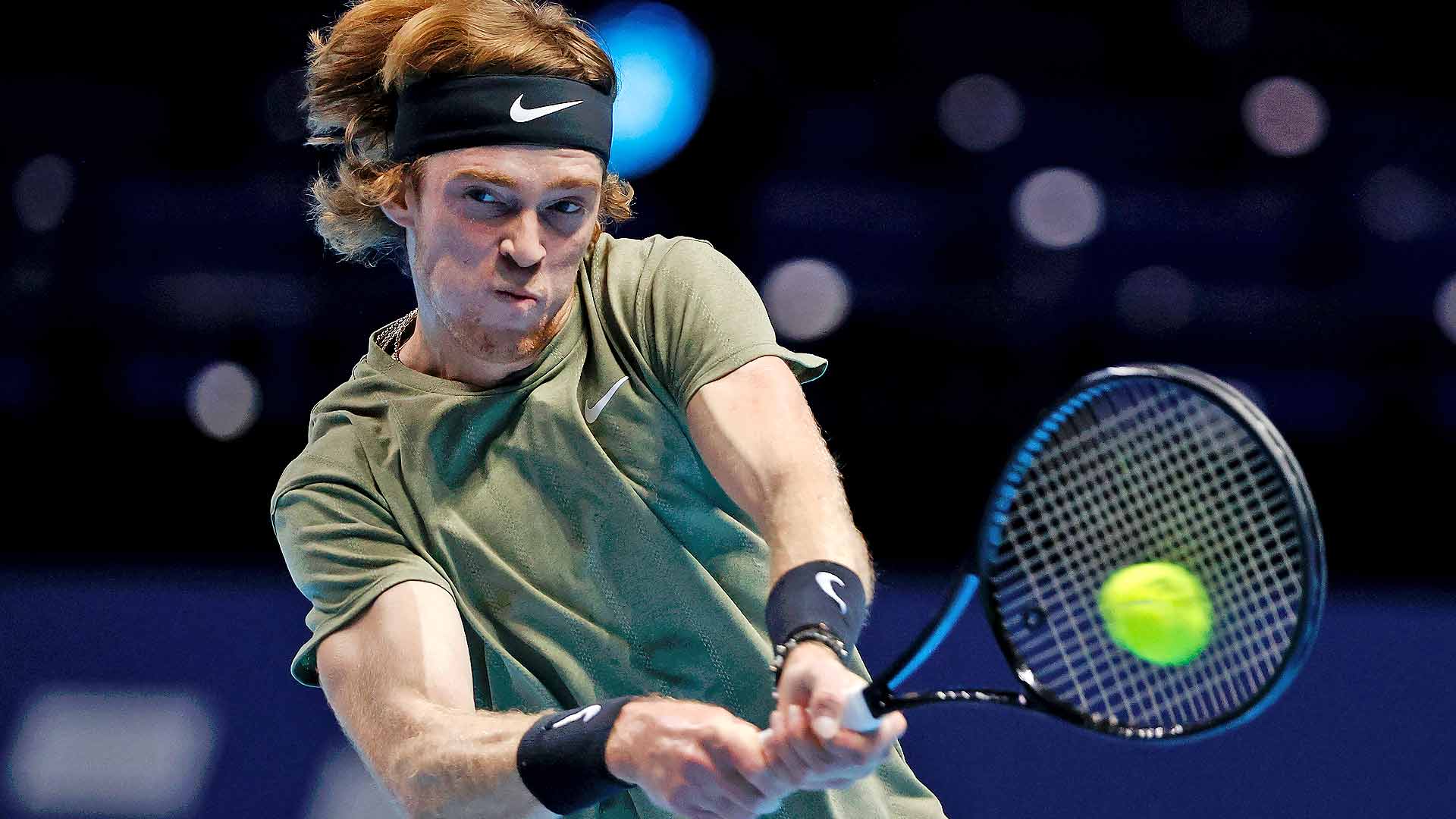 Rublev, known for his sharp and abrupt grunts that sound vaguely like what one hears in karate and judo tournaments, is 40-9 on the year, with 11 of those wins coming in the season's three majors. Tsitsipas is 28-13 and is the defending champion of the event. Rublev, who has a Tour-leading five titles this year, is making his first appearance. Tsitsipas should have more confidence heading into the match, as he played well in a tough three-set loss to Dominic Thiem in his opening match, while Rublev looked a bit shaky at times in his straight-sets loss to Nadal in his first throw-down.
The Russian, who admitted he was a "little bit nervous" in the match, had no break points against Nadal and won just 22 per cent of his return points against the Spaniard. He'll need to do significantly better than that to have a chance to beat Tsitispas.
If their past encounters are any indication of coming attractions, expect a battle, perhaps even a marathon. "[Andrey] is one of the most difficult opponents and for sure has been in a great run these past couple of weeks, playing a lot of finals and having a lot of titles in his pocket," said Tsitsipas.