The History Of Djokovic & Nadal's Grand Slam Finals
In a rivalry that continues to set records, plenty of Grand Slam history will be on the line in Sunday's Roland Garros final between Novak Djokovic and Rafael Nadal.
Djokovic and Nadal have met in eight Grand Slam finals, with each great winning four times. But this result will shift the tide in the all-time battle for most major trophies.
Roger Federer leads the way with 20 titles, with Nadal (19) and Djokovic (17) right behind. If Nadal lifts a record 13th Coupe des Mousquetaires, he will tie Federer's Grand Slam trophy count for the first time. If Djokovic emerges victorious, he will claw closer to both all-time greats and complete a second Career Grand Slam, which no other man has done in the Open Era. Roy Emerson and Rod Laver achieved that feat, but not entirely during the Open Era.
This will only be the pair's second clash in a Grand Slam final since 2014 Roland Garros. They last battled for Grand Slam glory at the 2019 Australian Open, where Djokovic won the only straight-sets major championship match between the legends.
ATPTour.com looks back at all eight of their Grand Slam finals before they clash again on the Parisian terre battue.
2019 Australian Open Final, hard, Djokovic d. Nadal 63, 62, 63
In an eagerly anticipated match-up, the pair's first Grand Slam championship clash in nearly five years, Djokovic started with a bang to win the first three games. Nadal, with a refined service motion and potent forehand, was unable to create an opening and through two sets Djokovic had lost just six of his service points and committed four unforced errors. Nadal continued to fight and created his lone break point at 2-3, 30/40 in the third set, but Djokovic was in irresistible form and put together one of the best performances of his career.
In capturing his 15th Grand Slam championship crown, the 73rd tour-level trophy of his career, Djokovic broke a tie with Pete Sampras (14) for third-most Grand Slam triumphs. It was also his record-breaking seventh trophy at the Australian Open, moving past Roy Emerson and Roger Federer.
"A perfect match is [winning] 6-0, 6-0, for sure. But I don't think that has ever happened," Djokovic said at 2020 Roland Garros. "But I think I played, from the big matches, [my best] against Nadal in the finals of Australian Open in 2019. That's definitely one of probably the best matches [I've played] on a big occasion against the biggest rival. [It was] probably the best quality of tennis I have played."
2014 Roland Garros, clay, Nadal d. Djokovic 36 75 62 64
Entering this match, Djokovic only had six Grand Slam titles, and he had not yet completed a Career Grand Slam. The last trophy missing from his major cabinet was the Coupe des Mousquetaires. Nadal spoiled the Serbian's dream, retained his No. 1 FedEx ATP Ranking and became the first player in history to win nine titles at an individual Grand Slam. He also drew level with Pete Sampras at No. 2 in the Grand Slam title leaders list on 14 major crowns.
The Spaniard had lost eight of his past nine sets against Djokovic entering this Roland Garros final, and once again fell behind to start the match as Djokovic broke in the eighth game and survived a pair of break points. Though the winner of the first set had gone on to triumph nine times in their 11 previous Grand Slam meetings, a free-swinging Nadal drew level at a set apiece with a break and quickly raced out to a 3-0 lead in the third. The Serbian found renewed energy in the fourth set, recovering a break in the seventh game, but was unable to hold serve to stay in the match as he double-faulted on championship point.
2013 US Open final, Grand Slam, New York City, hard, Nadal d. Djokovic 62 36 64 61
In their third US Open final meeting in four years, Nadal exerted the early pressure, but it was Djokovic who turned the tables in the sixth game of the second set. The intensity rose early in the third set, as Djokovic broke Nadal in the third game only for Nadal to bounce back for 3-3 and ultimately break once again. Nadal stretched his lead to 3-0 in the fourth set and by the time he celebrated his 13th major crown, Djokovic had committed 53 unforced errors.
The Spaniard dominated the extended rallies of five shots or more, winning 64 of 111 such points. The World No. 2 was lethal in the return game as well, converting on seven of 12 break point chances. Queen Sofia of Spain congratulated Nadal in the locker room after winning his second US Open crown.
2012 Roland Garros final, Paris, clay, Nadal d. Djokovic 64 63 26 75
The two were meeting for the fourth time at Roland Garros, with Nadal taking their three previous Paris clashes in straight sets. Djokovic was appearing in the final for the first time and he was looking to become the first man since Rod Laver in 1969 to hold all four Grand Slam championship titles.
In a final that was played over two days due to several rain delays, Nadal hit 34 winners to 29 unforced errors, and led two sets and a break before the Serbian rallied to win eight consecutive games en route to clinching his first set over Nadal at the tournament. He took a 2-1 break lead in the fourth set before play was suspended for the day on 10 June. When played resumed on Monday, Nadal broke back to level at 2-all and went on to wrap up the final victory in three hours and 49 minutes after Djokovic hit his fourth double fault to end the match. Nadal improved to 3-0 against Djokovic on clay in 2012.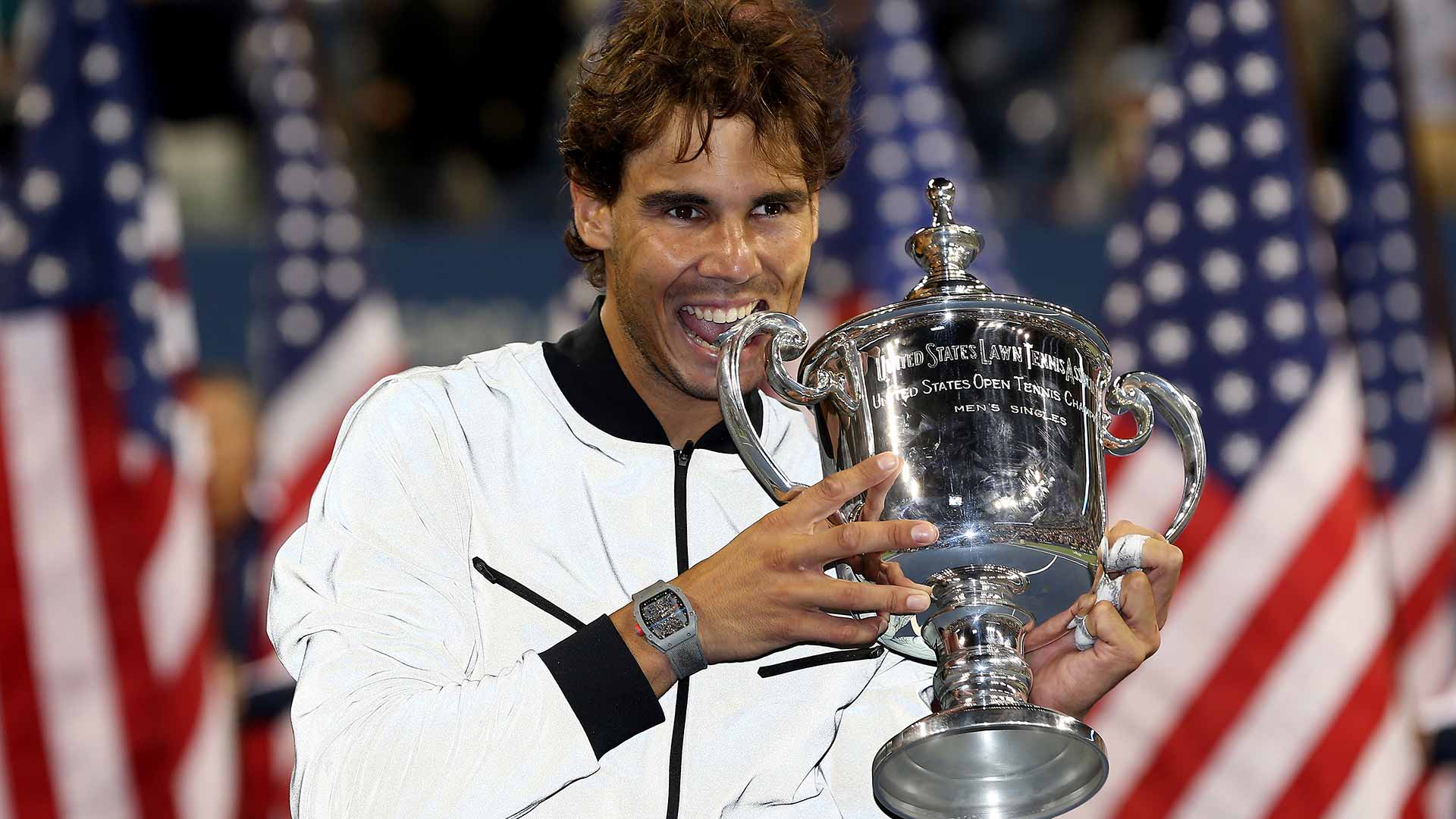 2012 Australian Open final, Melbourne, hard, Djokovic d. Nadal 57 64 62 67(5) 75
World No. 1 Novak Djokovic extended his winning streak to seven straight matches over No. 2-ranked Rafael Nadal in the longest Grand Slam championship final on record over five hours and 53 minutes. It surpassed the previous record of four hours and 54 minutes when Mats Wilander defeated Ivan Lendl at the 1988 US Open.
In a pulsating contest on Rod Laver Arena in Melbourne, Djokovic rallied from a 2-4 deficit in the fifth set to fight back and claim a dramatic victory. He continued to narrow the gap in his FedEx ATP Head2Head series with the Spaniard to 14-16. Nadal had never previously lost a Grand Slam final after winning the first set.
2011 US Open final, Grand Slam, New York City, hard, Djokovic d. Nadal 62 64 67(3) 61
World No. 1 Novak Djokovic claimed his third Grand Slam title of the 2011 season and his first at the US Open when he defeated defending champion Rafael Nadal 6-2, 6-4, 6-7(3), 6-1 in a rematch of the 2010 final. With the victory, Djokovic improved to a 6-0 mark against the Spaniard in finals that year.
The pair showed what was in store for the final, with their hard-hitting rallies averaging 10 strokes in the opening game. In both of the first two sets Nadal led by a break of serve, and both times Djokovic came roaring back, putting Nadal under constant pressure with his retrieval skills on the baseline and his clever use of angles, drawing the errors from the Spaniard's racquet. Ten-time major champion Nadal showed his mettle in the third set, winning it in a tie-break after Djokovic had served for the match at 6-5. However, the Spaniard could not maintain his high level and with both men tiring in the intense contest. It was Nadal whose resistance broke down first and Djokovic broke serve twice to claim victory in four hours and nine minutes. The 24-year-old became the sixth man in the Open Era to win three major titles in the same season.
2011 Wimbledon final, London, grass, Djokovic d. Nadal 64 61 16 63
Rafael Nadal, who was World No. 1 and the titlist in 2008 and 2010, met the soon-to-be No. 1 Novak Djokovic in the Wimbledon final. For two sets, Djokovic was superb, hitting 22 winners past Nadal, who was unable to hit top form in lengthy baseline rallies. But Nadal showed how he had earned 20 straight victories at the All England Club.
The top seed battled back to win the third set to raise hopes of a first two-sets-to-love comeback in a Wimbledon final since 1927, when Henri Cochet defeated Bill Tilden. Both players exchanged breaks of serve at the start of the fourth set, before Djokovic regained control to complete a 6-4, 6-1, 1-6, 6-3 victory in two hours and 28 minutes of play to lift his third Grand Slam championship title. It capped a dream fortnight for the Serbian, who became World No. 1 immediately following the tournament.
2010 US Open final, New York City, hard, Nadal d. Djokovic 64 57 64 62
Nadal reversed a three-match losing streak against Djokovic, defeating the Serbian 6-4, 5-7, 6-4, 6-2 to win his first US Open title and become the seventh man to complete the career Grand Slam.
Though rain delayed their meeting by a day, Nadal made a confident start to the championship match as he broke Djokovic. Though the Serbian drew level at 2-2, Nadal regained the lead as he converted on his sixth break point of the next game. The pair was locked at 4-4, 30/30, in the second set when rain suspended play for one hour and 57 minutes. When they returned, Djokovic broke the Spaniard for a third time to force a set off of Nadal for the first time during the 2010 US Open.
Djokovic was unable to maintain the momentum, however, with Nadal continually putting pressure on his serve. The top seed created 16 break point chances through the final two sets and converted on three of them (6 for 26 during the match). He claimed the victory as his opponent's return sailed wide on championship point after three hours and 43 minutes.