Zhuhai: The Newest Chinese Event On The ATP Tour
The Zhuhai Championships made its ATP Tour debut last year, with four Top 15 players competing in the singles main draw.
The second edition of the event would have been held this week if not for the COVID-19 pandemic.
ATPTour.com looks at five things to know about the event.
Zhuhai Fans Show Their Support
At the inaugural edition of the event last year, the stars of the ATP Tour witnessed the unique support of Zhuhai fans. Not only did supporters cheer for their favourite players on the court, but they also took the time to bring gifts to practice sessions.
One player who collected multiple gifts from his fans was eventual champion Alex de Minaur. Alongside a couple of tea sets, the Sydney native also received a dancing animal-shaped hat. De Minaur took to social media to share his love of the hat, using it to dance along to viral song 'Baby Shark' in his hotel room.
"I actually really like playing here. I think the fans here in China are like nowhere else. They're really loud. I don't think anywhere else I get given gifts by the fans," said De Minaur. "So I really enjoy playing here and it's always a special feeling once you come out here and you're able to perform and play at a good level and get the win in front of these fans."
Murray Takes Big Step
After undergoing a career-saving second right hip surgery in January 2019, Andy Murray entered the Zhuhai Championships seeking the first tour-level singles victory of his comeback. For the second straight ATP Tour event, the 2016 year-end World No. 1 met Tennys Sandgren in the first round.
Murray was pushed to three sets by the American, who had beaten him in Winston-Salem five weeks earlier, before raising his level to earn a memorable 6-3, 6-7(6), 6-1 victory.
"I think that in some ways that it's one of the best wins that I've had," said Murray. "Not in terms of just getting through that today, but everything that's gone into getting back to this point."
Murray's hopes of progressing further in the draw were ended in the next round by De Minaur, who rallied from a set down to overcome the three-time Grand Slam champion after two hours and 42 minutes.
De Minaur Completes 2019 Hat-trick
De Minaur captured his third ATP Tour title of 2019 in Zhuhai, navigating a stacked draw at the ATP 250. The Aussie beat countryman John Millman, Murray, Borna Coric and Roberto Bautista Agut to book a final meeting with Adrian Mannarino.
In a match that featured just one break of serve, which occurred on championship point, De Minaur battled past the Frenchman 7-6(4), 6-4 to add to earlier 2019 titles in Sydney and Atlanta. Outside of the Top 6 players in the 2019 year-end FedEx ATP Rankings, De Minaur was the only other player to win three ATP Tour singles trophies last year.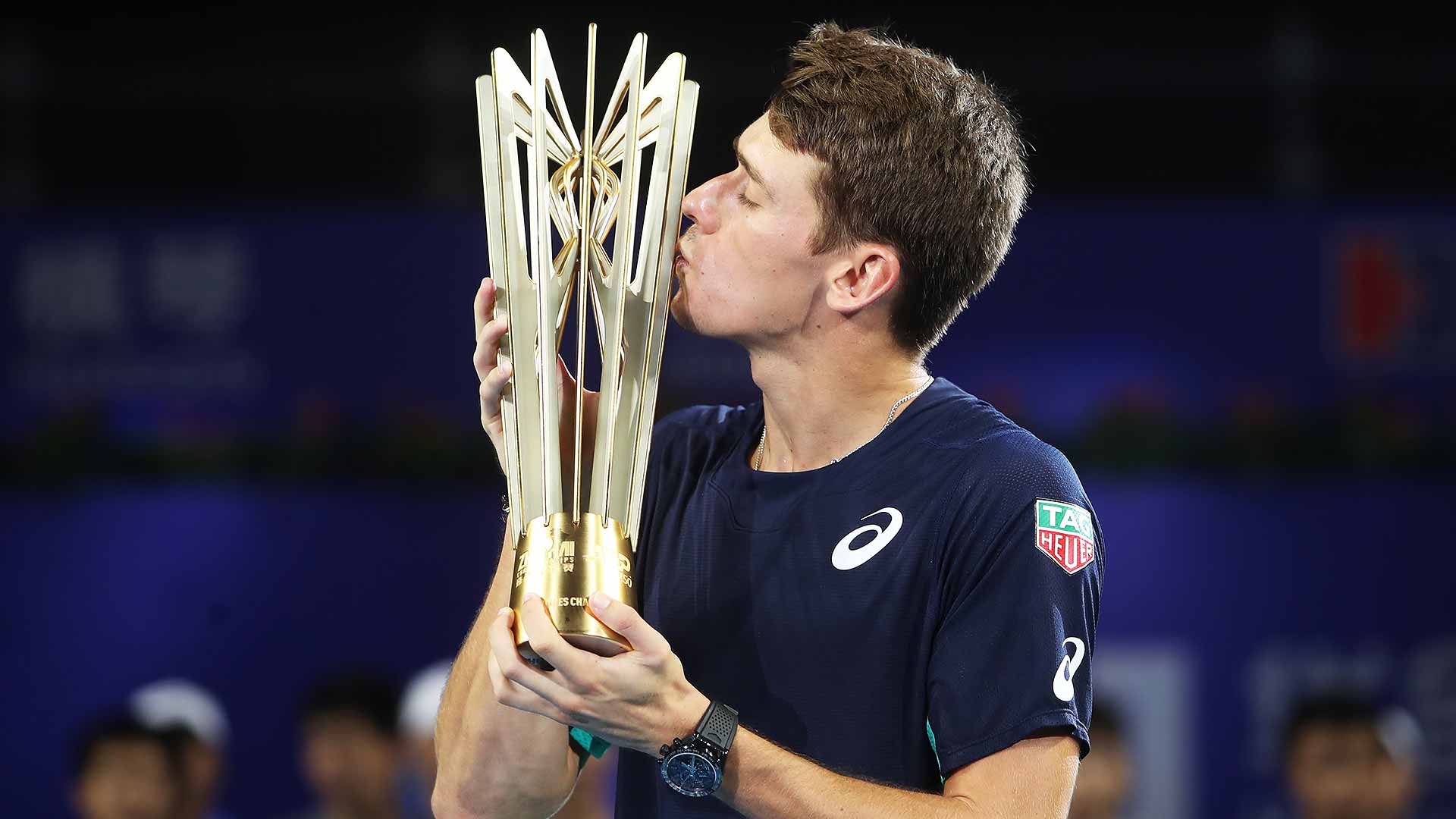 Gille/Vliegen Earn Third Trophy Of 2019
Sander Gille and Joran Vliegen joined De Minaur by completing a 2019 hat-trick of their own, dropping only one set en route to their third ATP Tour doubles trophy of the year. The fourth seeds earned their first tour-level crown on hard courts by clinching two tie-break sets against Marcelo Demoliner and Matwe Middelkoop in the championship match.
The Belgian pair, which was appearing in its eighth final of the year at all levels, improved to 3-1 in ATP Tour championship matches with their victory in Zhuhai. During a three-week stretch on clay earlier in the year, Gille and Vliegen clinched titles in Båstad and Gstaad, before a runner-up finish in Kitzbühel.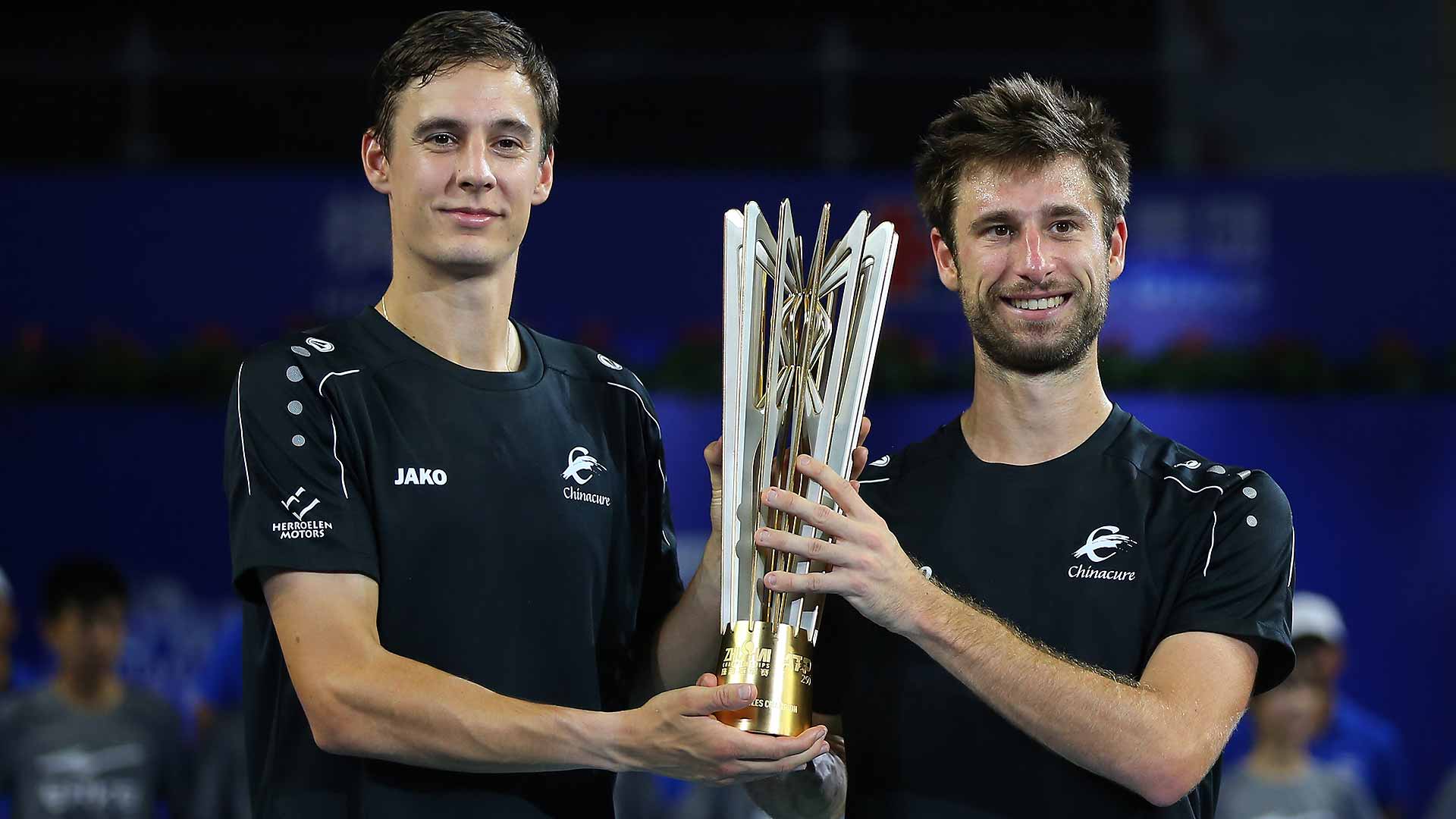 Tsitsipas, Coric Enter Virtual Reality
Stefanos Tsitsipas and Coric were drawn on opposite sides of the draw, but that did not stop the pair meeting off the court during their visit to Zhuhai. The seeded players took time out of their schedules to visit one of the city's newest attractions: Lionsgate Entertainment World.
Tsitsipas and Coric enjoyed their time at the virtual reality theme park, taking part in a number of activities including virtual motorbike riding. The pair were also treated to a show by a local entertainer, who swallowed a sword and a metal ball.
"This was definitely one of the most cool experiences I've ever done. All of these things, the ball and the sword, I never thought I'm going to see something like that," said Coric. "I can say that it was pretty awesome and I enjoyed my time there."