Gaston's Drop Shot Bonanza Against Wawrinka Tops Slam Upsets Of 2020
Continuing our review of the 2020 season, today we look at the top two Grand Slam upsets of the year. Next week, we'll look at the best matches, comebacks and upsets at ATP Tour tournaments.
2) Daniel Altmaier def. Matteo Berrettini, Roland Garros, Paris, R3, 3 October 2020 (Match Stats)
Daniel Altmaier has long idolised Stan Wawrinka. It makes sense — the German has a powerful one-handed backhand like the Swiss, and he also celebrates some of his best shots with a big 'Allez!'
"'Allez' is coming a little bit from my idol Stan Wawrinka. When I was watching him, he always says, 'Allez, Stan," Altmaier said. "I copy [him] a little bit because I like to say, 'Allez, Dan.' That's little bit the connection."
In the third round at Roland Garros this year, he played like his idol, too. The qualifier had only two tour-level wins (both at 2017 Antalya), but he looked like a grizzled veteran against seventh seed Matteo Berrettini. The Italian is one of the biggest hitters on the ATP Tour, and it's not often he gets outclassed.
But Altmaier looked like the experienced star, blasting away, especially with his backhand. Berrettini hit his share of winners, too, but his German opponent was unfazed. The 22-year-old eased past Berrettini 6-2, 7-6(5), 6-4 in two hours and 15 minutes on Court Philippe-Chatrier to become just the fifth qualifier since 2000 to reach the fourth round at a major.
"I was always believing I can be here, I can perform good, I can play well and beat those guys," Altmaier said. "I was working really hard with my team to be in this position, to feel stable, to really play well and compete against the top guys of the game."
Fittingly, after clinching his victory, Altmaier pointed his index finger at his temple — a homage to Wawrinka.
Hugo Gaston def. Stan Wawrinka, Roland Garros, Paris, R3, 2 October 2020 (Match Stats)
On paper, a clash between a three-time Grand Slam champion and a 20-year-old without a tour-level win is a mismatch. But this year on the Parisian terre battue, Hugo Gaston flipped the expected script on Stan Wawrinka.
Wawrinka, the 2015 champion who was appearing in the third round at Roland Garros for the 12th time, was trying to gain momentum for another big run in France. The Swiss star breezed through the opening set 6-2 and all seemed to be going according to plan.
But while Gaston, a diminutive 5'8" left-hander, couldn't match the consistent baseline power of Wawrinka, one of the game's most physical players, he brought another skill that endeared him to fans watching from around the world. This match might be looked back on as the birth of the "drop shot king".
The speedy Gaston not only fought to put ball after ball back in play, but he pulled out his drop shot early and often. Even after it became clear that the drop shot was the World No. 239's biggest weapon, Wawrinka struggled to deal with it.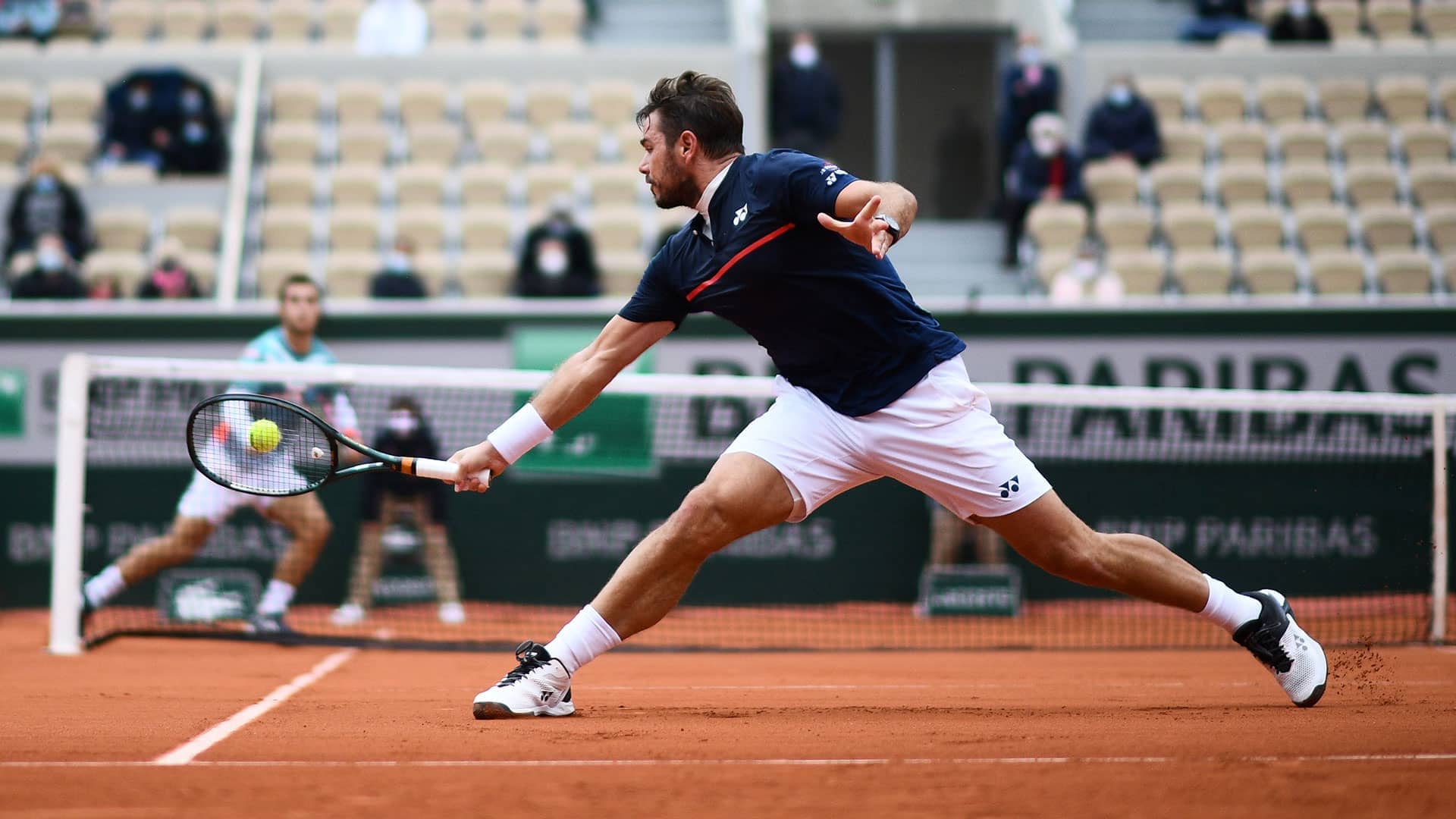 There was a two-hour, 25-minute rain suspension at 2-2 in the third set, giving the Swiss a chance to refresh his mind and formulate a game plan against the home favourite. But Gaston frustrated Wawrinka even upon the resumption of play by confusing the Swiss. The lefty crushed a backhand winner to gain a break right away and finished off the set.
"I tried to play my game," Gaston said. "But I didn't know I could do it – until I won."
Although Wawrinka battled hard and at times found his range from the baseline to force a fifth set, Gaston, buoyed by his home crowd — albeit thin due to COVID-19 restrictions — completed a shocking 2-6, 6-3, 6-3, 4-6, 6-0 victory. After Wawrinka failed to handle a Gaston overhead on match point, the Frenchman dropped his racquet and put his hands on his head in disbelief.
"It's difficult to explain. It's fantastic," Gaston said. "It was a great match. I'm very happy today."
Gaston was the last Frenchman in the main draw. He became the lowest-ranked player to reach the fourth round at Roland Garros since another French wild card, No. 283-ranked Arnaud Di Pasquale, in 2002. The lefty used another drop shot deluge in the Round of 16 against two-time tournament finalist Dominic Thiem, but the recent US Open champion was able to survive in five brutal sets.