Guga On No. 1: 'Highlight Of My Career By Far'
In the latest profile on the 26 players to rise to No. 1 in the FedEx ATP Rankings, ATPTour.com looks back on the career of Gustavo Kuerten. View Full List.
First week at No. 1: 4 December 2000
Total weeks at No. 1: 43
Year-End No. 1: 2000
At World No. 1
By lifting his fifth trophy of 2000 at the Tennis Masters Cup [now named the Nitto ATP Finals] in Lisbon, Gustavo Kuerten overtook Marat Safin to become World No. 1 in the FedEx ATP Rankings for the first time on 4 December. The Brazilian, who almost retired from the event with severe thigh spasms and back pain, recorded back-to-back wins against Pete Sampras and Andre Agassi to lift the trophy and secure the year-end World No. 1 position. Across three stints between December 2000 and November 2001, Kuerten held the top position for a total of 43 weeks. The Florianopolis-born star, known affectionately as 'Guga', captured his third and final Grand Slam title as World No. 1 at Roland Garros in 2001.
Grand Slam Highlights
Kuerten enjoyed his greatest major championship success on the terre battue of Roland Garros. The smiling Brazilian captured the hearts of many French fans at the clay-court Grand Slam championship, where he lifted the title on three occasions (1997, 2000-'01). Making only his third appearance at a Grand Slam event, the World No. 66 defeated each of the three most recent champions in Paris – Yevgeny Kafelnikov (1996), Thomas Muster (1995) and Sergi Bruguera (1993-'94) — to capture his maiden Grand Slam title. Kuerten also triumphed in Paris in 2000 and 2001, beating Magnus Norman and Alex Corretja, respectively. Only 12-time champion Rafael Nadal and six-time winner Bjorn Borg have earned more Roland Garros crowns than the Brazilian in the Open Era. Kuerten moved past Goran Ivanisevic and Norman to reach his first US Open quarter-final in 1999, an achievement he would later match in 2001 with a straight-sets win against Albert Costa. The 6'3" right-hander also reached the last eight at Wimbledon in 1999, falling to eventual runner-up Agassi. Kuerten's best result at the Australian Open was a run to the third round in his final appearance at the event in 2004.
Nitto ATP Finals Highlights
The three-time Grand Slam champion made three consecutive appearances at the Nitto ATP Finals from 1999 to 2001. On his tournament debut in Hanover, Kuerten beat Nicolas Lapentti in straight sets, but lost matches against eventual finalists Sampras and Agassi. In his second appearance, Kuerten arrived in Lisbon as the No. 2 player in the FedEx ATP Rankings behind Safin. His hopes of leapfrogging the Russian appeared slim after losing his opening match to Agassi and struggling with physical issues. Unsure if he would be able to take to the court for his second match against Norman, Kuerten spent 12 hours in the physio room and did not get to sleep until 5am. The next day, the Brazilian returned to the court with a fresh outlook and charged to the trophy. Kuerten claimed wins against Norman, Kafelnikov, Sampras and Agassi to claim the title and become World No. 1 for the first time. "The most perfect match that I ever played was in the final," said Kuerten. The 2000 year-end World No. 1's final appearance at the elite eight-man event ended at the round robin stage in Sydney.
ATP Masters 1000 Highlights
Kuerten captured five ATP Masters 1000 trophies from 10 finals between 1999 and 2003. The Brazilian earned two crowns at the Rolex Monte-Carlo Masters, battling from a set down twice in both title runs in 1999 and 2001. One month after his first success in the Principality, Kuerten also triumphed at the Internazionali BNL d'Italia. The 22-year-old beat World No. 1 Kafelnikov, No. 7 Corretja and No. 4 Rafter en route to the trophy. It marked the first of three straight final appearances in Rome, with Kuerten finishing as runner-up in 2000 and 2001. In a thrilling five-set final, the 20-time tour-level titlist outlasted Safin to win the 2000 Hamburg European Open. Kuerten earned his final Masters 1000 trophy at the 2002 Western & Southern Open in Cincinnati, beating six Top 30 players to take the title.
Biggest Rivalries
Between 1999 and 2003, Kuerten claimed seven wins from 10 ATP Head2Head matches against Norman. The pair's rivalry reached its peak with four meetings in 2000, including Kuerten's four-set triumph In the Roland Garros championship match. Kuerten won three of those clashes, following Norman's own four-set win in the Internazionali BNL d'Italia final in Rome. The Brazilian earned four victories from seven matches against the Swede on clay and did not drop a set to Norman across three clashes on hard courts.
Legacy
Kuerten is the only South American to finish an ATP Tour season as year-end World No. 1 in the FedEx ATP Rankings. The 1999 and 2000 Brazilian Athlete of the Year is one of the greatest players in Roland Garros history, winning three trophies across five years to cement his place in the tournament's record books. Kuerten won 14 of his 20 tour-level crowns on clay, but the Brazilian also enjoyed success on hard courts with title runs at the 2000 Tennis Masters Cup and the 2002 Western & Southern Open. The 2012 International Tennis Hall of Fame inductee, who underwent arthroscopic right hip surgery in 2002, contested 52 matches for his nation in Davis Cup (34-18) and guided his country to its second World Group semi-final in 2000. The cheerful, popular Brazilian is considered an icon in his home country and acts as an inspiration to current and emerging Brazilian tennis stars. Kuerten was placed on a Brazilian postage stamp in 2001 and was awarded the Brazilian Cross of Merit in 2003. In 2016, Kuerten received two special honours in Rio de Janeiro. The Rio Open presented by Claro named its Centre Court after the former World No. 1 and, just a few months later, Kuerten was handed the responsibility of carrying the Olympic torch into the world-famous Maracana Stadium at the 2016 Rio Olympics opening ceremony.
Overall Match Win-Loss Record: 358-195
Overall Titles/Finals Record: 20-9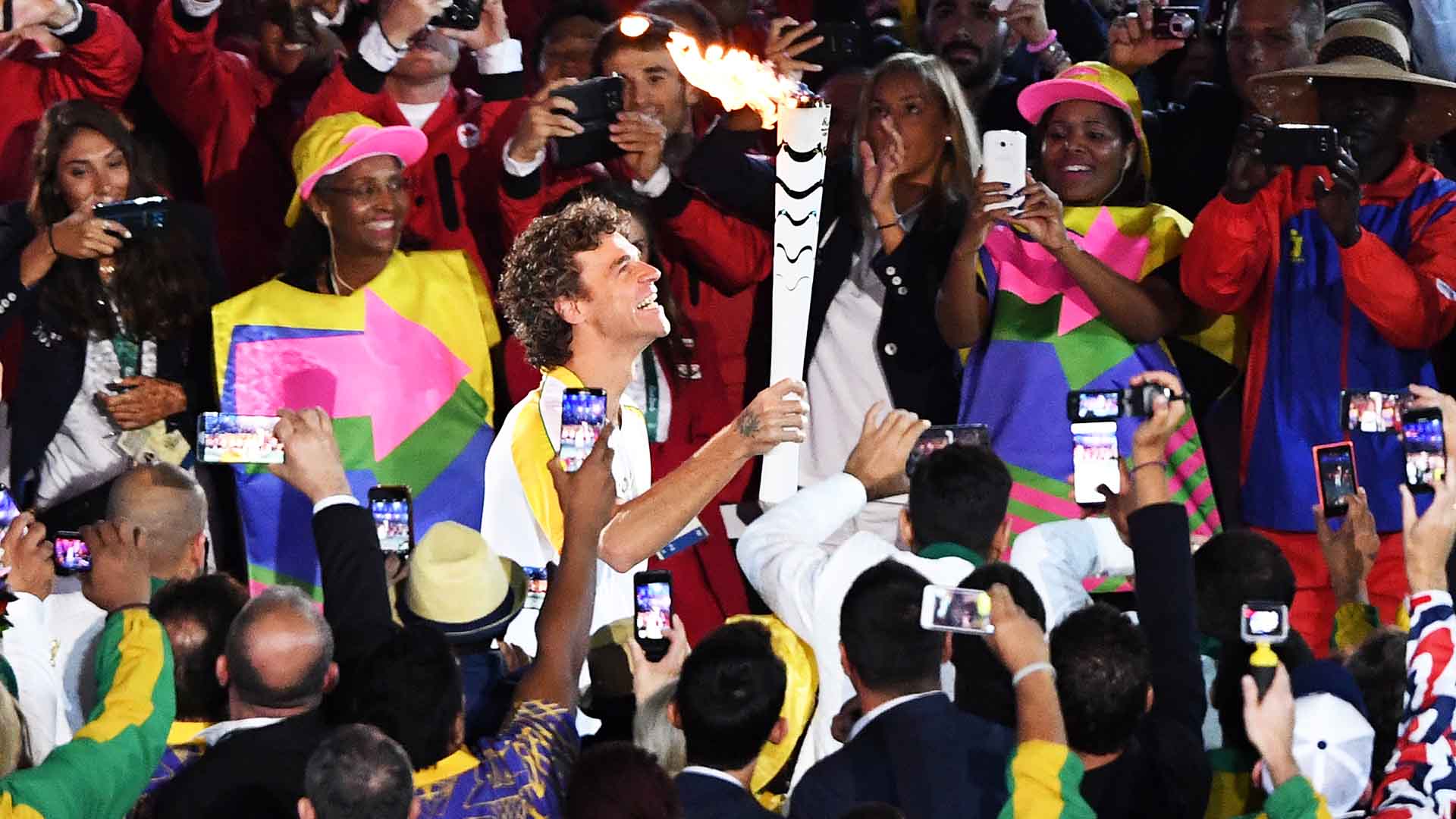 Memorable Moment
As the defending champion at Roland Garros in 2001, Kuerten experienced his most memorable moment on a tennis court against American Michael Russell in the Round of 16. The Brazilian found himself one point from a straight-sets defeat at 3-5 in the third set, before charging back for a dramatic 3-6, 4-6, 7-6(3), 6-3, 6-1 victory after three hours and 25 minutes. At the end of the match, Kuerten drew a heart with his racquet into the clay, before kneeling in the middle of it and blowing kisses to the crowd on Court Philippe-Chatrier. "In terms of emotions, it's the finest moment of my career. Nothing compares to that moment," said Kuerten. "It's the match – the one that I would take with me if I could choose only one. My connection with the fans was so strong… This heart was my way of thanking them for their support and for the emotions that we were going through together at that moment. If I could have hugged each and every one of them, I would have. By rights, I should have lost that match. But nothing much ever went to plan at Roland-Garros." Three matches later, Kuerten defeated Corretja for his third and final Roland Garros crown. The Brazilian celebrated by carving a second heart into the clay, repeating the gesture he made after beating Russell.
Muster on Kuerten
"He had a big serve, great forehand, good backhand down the line and was able to cover the court because of good footwork. He really had a good all-round game, which was boosted by a large amount of confidence built up over the years. He was a tremendously fit guy, a great player and always had an ability to win the big points."
Kuerten on Kuerten
"As a tennis player, nothing could be higher than becoming No. 1 at the [Tennis Masters Cup], beating Pete and then Andre back-to-back. This is the highlight of my career by far."
Broadcaster/Journalist Graeme Agars
When Gustavo Kuerten used his racquet to carve a heart into the terre battue on Court Philippe-Chatrier to celebrate his third and final triumph at Roland Garros, he was carving his legacy into the game at the same time.
Guga, as he became universally known, was an ever-smiling, warm and popular player who was a true clay-court specialist. Nonetheless, Kuerten was able to expand his game to win on hard courts, but never on grass, which always remained a mystery surface for him.
His greatest year was 2000, when he won five ATP Tour titles, including the season- ending Tennis Masters Cup, which has since been renamed the Nitto ATP Finals, in Lisbon. With a powerful backhand and extraordinary stamina, Guga was a hard man to beat and was an entertaining player for his many fans to watch. Unfortunately, his time at the top of the game was limited because of frequent hip problems.
He was, and still is, a hero in his native Brazil. He carried the Olympic Torch into the Rio Olympics in 2016 and even had a stamp minted to commemorate his Roland Garros successes with an image of the Eiffel Tower in the background. He is also well known for his humanitarian work and was the recipient of the Arthur Ashe Humanitarian Award in 2003.