Inside The Court Call With Per Bastholt
The roar of the crowd as he steps out onto a big court, the intense focus of all the cameras, the adrenaline rush of performing under pressure… It might sound like the start of a Grand Slam final, but for members of the ATP Tour's Medical Services team, it's just another day on the job.
After a very challenging season, ATPTour.com sat down with longtime Sports Medicine Clinical Trainer Per Bastholt to learn from his unique experiences as a key member of the Tour's Medical Services team as he prepares for 2021. He gave us an inside look at what it takes to keep the top players healthy – and what goes through his mind when he's called on court.
A native of Denmark, Bastholt began his career as a clinical trainer in tennis in the early '90s at the Mont-Carlo Country Club, assisting the Tour during its annual Masters 1000 stop in the South of France. His diverse background includes a five-year spell working for professional football for Ligue 1 team AS Monaco (2008-2012), as well as three years private service to former Wimbledon finalist Tomas Berdych and one year with former WTA World No. 1 Victoria Azarenka.
"Per is one of our leaders among our ATP Medical Services Team," said Todd Ellenbecker, ATP Vice President of Medical Services. "His longevity on tour speaks volumes for his ability to gain the confidence of our players and staff. He has managed key situations on the world's biggest tennis stages and facilitated our players' ability to recover and return to play following all types of injuries. Having this level of experience among our group is tremendously advantageous for ATP Medical Services."
Since joining the Tour full-time in 1994, Bastholt has witnessed first-hand the evolution of the sport's physicality and intensity, as well as its effects on a tennis player's body.
"The players are physically better. The game is faster. The game has changed, the racquets have changed. Everything has changed. Only the size of the court stayed the same," Bastholt joked. "But even the courts have changed, in quality, in speed. It's just not the same game.
"But of course, we have evolved as well in trying to keep the players fit and trying to keep them healthy on the court. What has changed the most is the player preparation."
Bastholt treating World No. 6 Stefanos Tsitsipas during a court call at 2020 Roland Garros. (Photo credit: Peter Staples/ATP Tour)
While the most visible part of a clinical trainer's job occurs on the court, the increased importance of physical conditioning means that most of Bastholt's day-to-day takes place in the 'treatment area' located inside or adjacent to the player locker room.
Bastholt explained that the bulk of the team's work involves pre-match preparation and post-match recovery, using his extraordinary level of expertise in biomechanics, stretching and musculoskeletal injury prevention to treat and condition the players. The team focusses especially on treating the players' shoulders and lower backs, 'concern areas' that suffer the most wear and tear from tennis.
"At the big events, the days start somewhere like 9:00 in the morning, and we finish at midnight – and that's on a good day. Sometimes we finish at two in the morning," he said.
"The preparation is about us being ready to assist the players in all sorts of ways: Some people tape their toes to prevent blisters, some people tape their ankles if they've had previous injuries to prevent getting hurt again. If a player has a sore back or hasn't really recovered from his previous match, we try to assist them in getting those little concern areas warmed up or stretched out before they go out to have them be in their best position to perform at the best level without hurting themselves."
According to Bastholt, the first 30 minutes after a tough match are vital for a player's efficient recovery. There are various techniques and methods that the Sports Medicine team applies to make sure players are ready for their next match, and each player requires a unique approach.
"Recovery is an art and it's very individual," Bastholt said. "Hydration and various recovery tools are available for the players. We assist with potential little nagging injuries, dry needling, stretching and specific tissue work. Many tournaments have sports massage therapy, ice baths, stationary bikes, all of it part of the recovery process that the players go through after each match."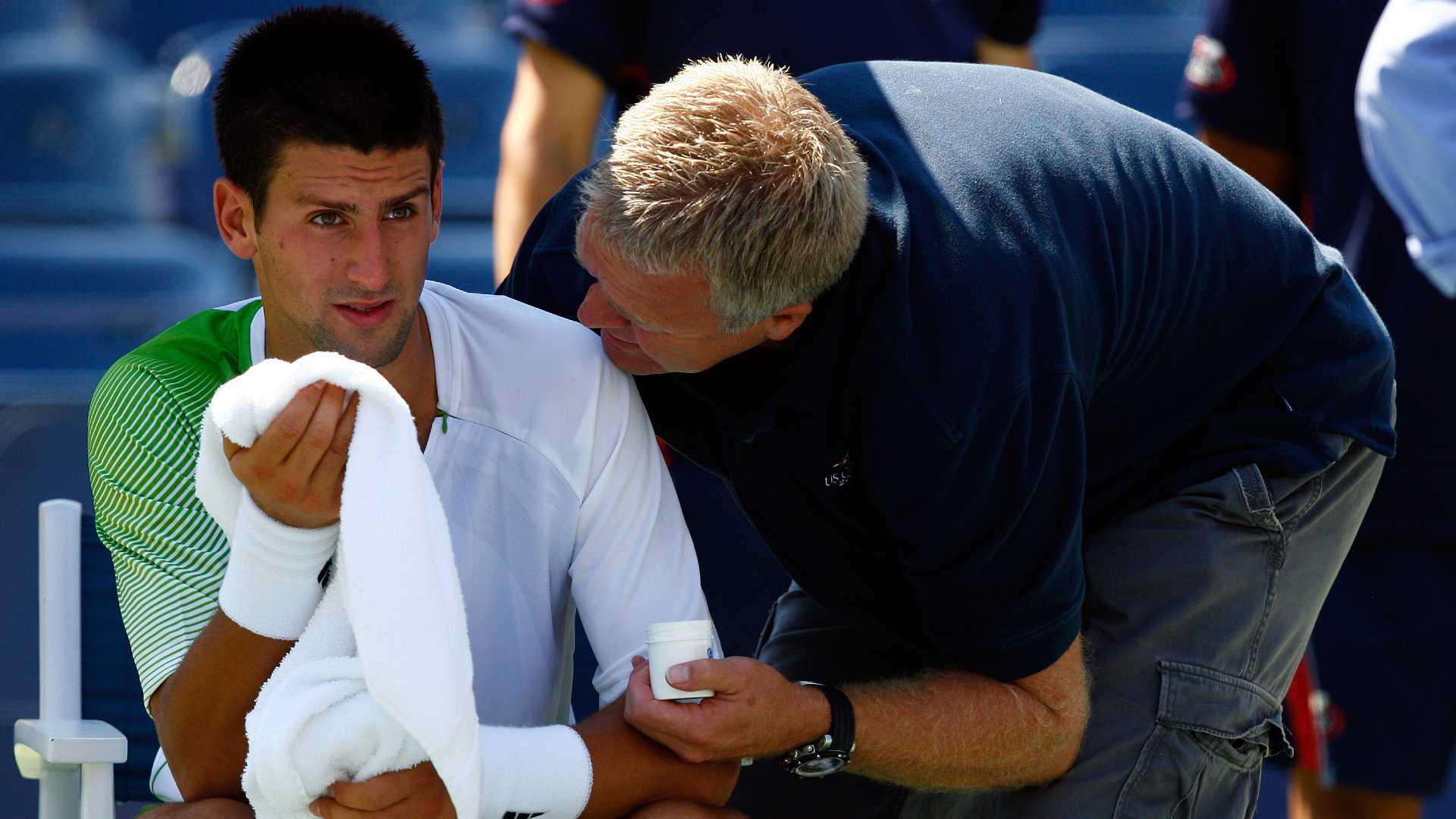 Bastholt in action at the 2008 US Open treating World No. 1 Novak Djokovic. (Credit: Getty Images)
But no matter what – or who – Bastholt is working on, as soon as the call comes in from the chair umpire summoning a clinical trainer to the court, it's go time. During a match, players can request a visit from the trainer during a changeover in the case of an injury and may receive a three-minute Medical Time Out. With only a pressure-filled 180 seconds to assess and treat anything from a sprain to a severe, match-terminating injury, Bastholt and his team must act quickly and decisively to maximise a player's chances of staying healthy for competition.
"We drop everything we have in our hands if there is a court call," he said. "We have a radio on us. If that radio goes, we go. Everybody in the room knows, even if we're preparing a player for a match, that player will wait and his match will wait until we come back and then finish the preparation."
For Bastholt, even 27 years after his first court call, there's still a certain adrenaline rush whenever his radio goes off at a big event.
"There's always a moment when your adrenaline starts pumping a little bit. And that's not a bad thing, because it makes your attention to everything so much better," he said. "I don't get too nervous about it, and I never have been.
"My approach is calm. Getting into position, I always try to put myself lower than the player so the player doesn't have to speak up. I'm looking straight into the eyes of a player and I always want to project calm.
"You run onto a big court, everyone's attention is on you. I try not to focus on the music or the cameras or what's going on or what the announcer is saying. I'm with the player, only with the player."