Nadal Chases Major Milestone In 2021
With the 2021 ATP Tour season fast approaching, many of the ATP Tour's most established stars will have their sights set on reaching historic milestones. Most notably, Rafael Nadal, Roger Federer and Novak Djokovic will look to continue to add to their stunning lists of career accomplishments.
ATPTour.com takes a closer look at the records the Big Three and other established names will be chasing in 2021.
Rafael Nadal
The Spaniard made history last year when he claimed a record-extending 13th Roland Garros title in Paris to join Federer at the top of the Grand Slam singles titles leaderboard for the first time. Nadal can overtake the Swiss and take sole ownership of one of the most prestigious records in the sport with a second Australian Open title run in February. Federer, who moved clear of former record holder Pete Sampras with his 15th major triumph at 2009 Wimbledon, will miss the opening major championship of the year as he continues to recover from two right knee surgeries.
Alongside his pursuit for major titles, Nadal will also chase numerous ATP Tour milestones. The 34-year-old is less than three weeks away from becoming the first player to spend 800 weeks inside the Top 10 in the FedEx ATP Rankings. Remarkably, Nadal has spent a record 797 consecutive weeks inside the Top 10 since 25 April 2005. Nadal passed Jimmy Connors' previous record mark of 789 weeks as a Top 10 player on 9 November 2020.
Nadal is also on the verge of joining an exclusive hard court club this year. The Mallorcan, who owns 486 tour-level hard court wins, is just 14 victories away from becoming only the fourth player to achieve 500 wins on the surface. Only Federer (782), Djokovic (604) and Andre Agassi (592) have achieved the feat.
Novak Djokovic
Nadal is not the only player aiming to surpass a major Federer milestone in 2020. Djokovic is currently 10 weeks away from breaking the Swiss' record of 310 weeks at the top of the FedEx ATP Rankings. Djokovic, who leads longtime rival and World No. 2 Nadal by 2,180 points, will pass Federer's mark if he can maintain his position at the top of the sport until 8 March 2021.
It is not the only FedEx ATP Rankings record the Serbian is chasing in 2021. Last year, Djokovic triumphed at the ATP Cup and claimed four trophies to tie his idol Sampras' record of six year-end World No. 1 finishes. The 33-year-old will be aiming to take sole ownership of that record by completing back-to-back year-end World No. 1 finishes for the third time (2011-'12, '14-'15).
Djokovic can also join the elite list of players to have achieved 1,000 tour-level victories in 2021. The 36-time ATP Masters 1000 champion enters the year with 934 victories at tour-level, just 66 wins shy of the mark Nadal recently reached at the 2020 Rolex Paris Masters. Between 2007 and 2015, Djokovic achieved more than 66 wins in six of this nine campaigns. If he can do the same in 2020, he will join Connors (1,274), Federer (1,242), Ivan Lendl (1,068) and Nadal (1,004) in the 1,000 wins club.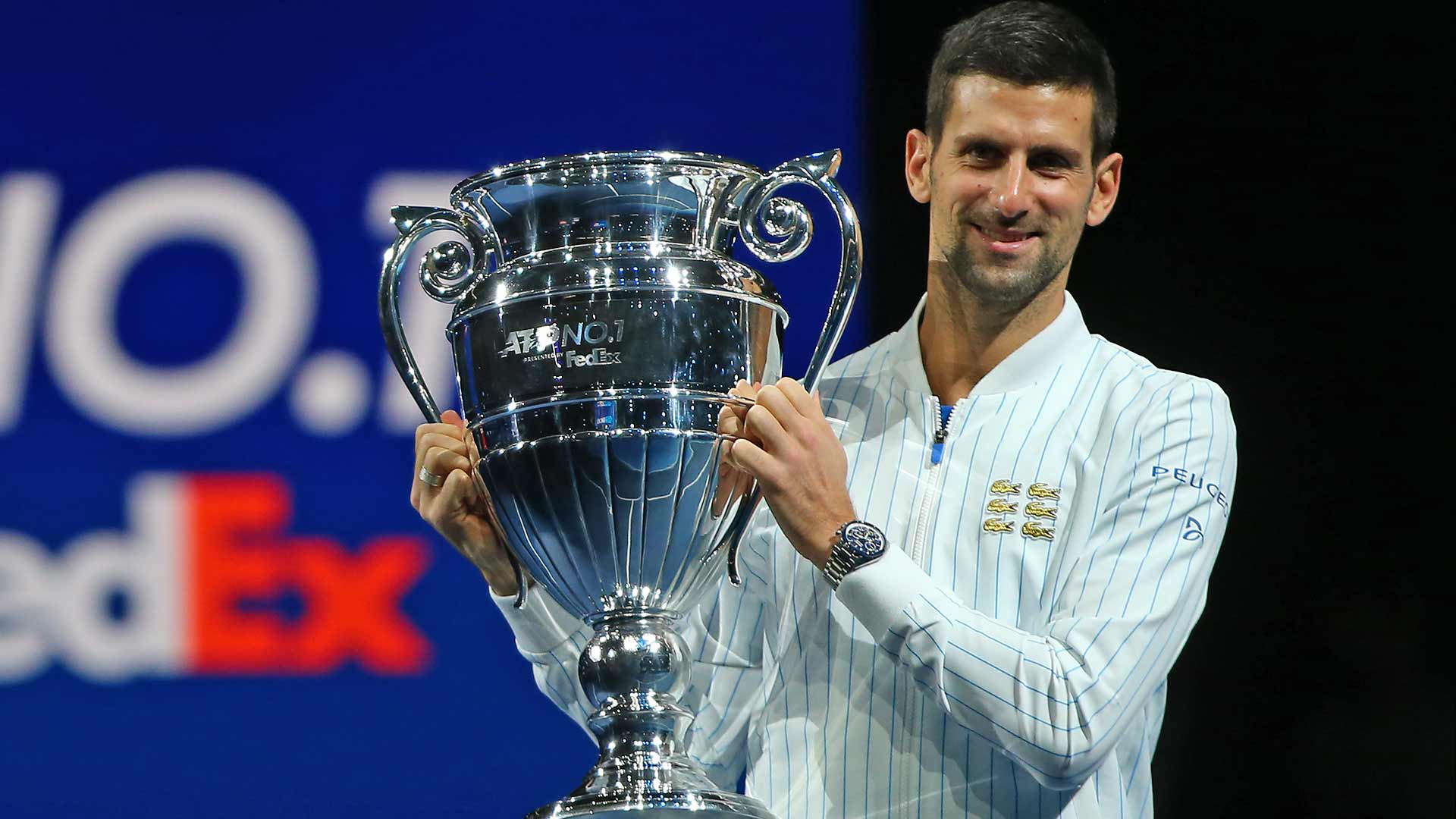 Roger Federer
While Nadal and Djokovic aim to surpass Federer's records, the Swiss will have his eyes on a long-standing mark held by Connors. The American currently owns a record 1,274 victories at tour-level, 32 wins ahead of Federer's tally (1,242).
In pursuit of Connors' record, Federer could hit another win milestone on the way. The 20-time Grand Slam champion is currently two victories away from earning his 300th indoor win at tour-level. Federer, the only active player with more than 200 indoor wins, is attempting to become the eighth member of the indoor 300 club.
The Race To 500
Outside of the Big Three, a trio of ATP Tour veterans are on the cusp of a major milestone in 2021. Gael Monfils (493), Gilles Simon (492) and Feliciano Lopez (492) are all within touching distance of joining the 500 tour-level wins club.
Only eight active players have achieved 500 tour-level victories. Alongside Federer (1,242), Nadal (1,004) and Djokovic (934), Andy Murray (676), Fernando Verdasco (552), Richard Gasquet (548), Stan Wawrinka (530) and Marin Cilic (516) have all passed the mark. Philipp Kohlschreiber (470) and Jo-Wilfried Tsonga (464) are also closing in on 500 wins.
The 20 Club
Another exclusive club may increase its number of members in 2021. Tsonga (18), Cilic (18) and Dominic Thiem (17) are all within touching distance of their 20th tour-level crowns. Only five active players have reached the mark: Federer (103), Nadal (86), Djokovic (81), Murray (46) and Juan Martin del Potro (22).