No Rafa? No Problem. Spain Claims Australia ATP Cup Win
Roberto Bautista Agut adjusted well to his role as Spain's temporary No. 1 singles player on Tuesday, as he clinched Spain's first victory at the 2021 ATP Cup with a 4-6, 6-4, 6-4 comeback victory against Alex de Minaur.
The World No. 13 was originally scheduled to face John Millman in the No. 2 singles match, but was promoted to the No. 1 singles position when Rafael Nadal announced he would miss the tie due to a stiff lower back. Following Pablo Carreno Busta's 6-2, 6-4 win against Millman, Bautista Agut created 17 break points and broke De Minaur on five occasions to move Spain to 1-0 in Group B after two hours and 21 minutes.
"Everybody knows that to have Rafa on the team is a pleasure. It's a privilege to be in the team with him. We can learn a lot of things staying around him. He has been fighting 20 years in a row and we are there to complete the team, to be there and to fight. I think Pablo and I today did a great job," said Bautista Agut.
[WATCH LIVE 1]
Bautista Agut entered the match with a perfect 6-0 record (12-0 sets) at the ATP Cup, but he found himself a set down after a rapid start from De Minaur. The 32-year-old kept his composure on Rod Laver Arena, gained an early break in the second set and rode the momentum to earn his first ATP Head2Head victory in three matches against the Antalya champion.
This is Spain's second ATP Cup victory against Australia in as many years. At the inaugural edition of the event last year, Spain claimed a 3-0 semi-final victory against the host nation to reach the championship match.

Bautista Agut received regular support from Nadal in Spain's team zone.
De Minaur started the match in peak form, as he used impressive his court speed and played with consistent depth and aggression to take a 5-1 lead. The Aussie held set point at 5-1, but Bautista Agut refused to concede the set and found his range on his forehand to recover the breaks.
Bautista Agut served to level the set at 5-5, but De Minaur had other ideas. The 21-year-old stepped inside the baseline and fired forehands into his opponent's backhand corner to gain an early advantage. De Minaur earned three set points with a pinpoint backhand passing shot down the line and converted his second opportunity when Bautista Agut fired a forehand into the net.
After a dramatic first set which featured seven service breaks, the second set was decided by a single game. Bautista Agut capitalised on a series of forehand errors from De Minaur to establish a 2-1 lead and forced a decider when his opponent misfired another forehand on set point.
The Spaniard took the lead for the first time in the match with a crucial service break at 1-1 in the decider. Bautista Agut found his range from the baseline and dictated rallies with his forehand to claim his first win of the year.
"It was a very tough match. I never beat Alex before today, and I knew it was going to be a difficult match. He's a great player. He's very solid. He runs well. He's a great competitor, and well, it took me a while to get the rhythm of the match at the beginning of the first set," said Bautista Agut. "But I was turning around the rhythm, playing more aggressive, playing harder, and well, I think the match changed, and finally I could close the match playing very good tennis."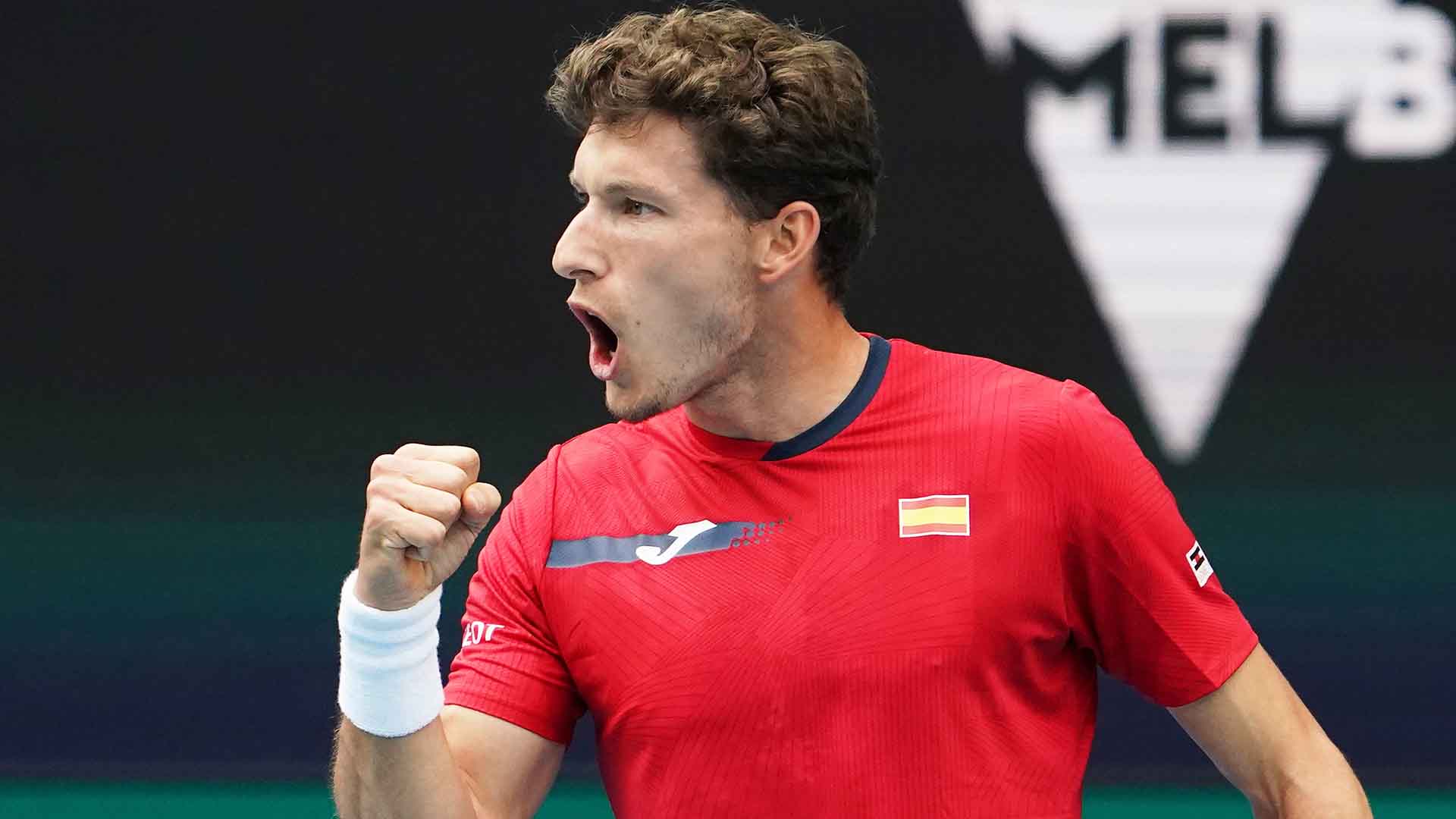 Earlier in the day, World No. 16 Carreno Busta dropped just three points behind his first serve (25/28) to earn his fourth win in five ATP Head2Head clashes against Millman after 77 minutes.
"Obviously it's very important to us to win the first match… Rafa couldn't play, so I am here to try to help my team," said Carreno Busta. "Obviously the first match of the season is always difficult, but I think that I played really a good match, feeling very comfortable on court, so [I am] happy for the victory. Of course now, [we need to] continue fighting, because they play at home and they're a really good team."
Carreno Busta played with forehand aggression in crucial moments and extracted errors from the baseline to claim three service breaks in the opening set. The Gijon native moved to the net and attacked Millman's forehand to break early in the second set and closed the match with powerful serving.
"All credit to both Spaniards, they played extremely well," said Australia captain Lleyton Hewitt. "Carreno Busta was hitting the ball like a dream the whole match [and] looked very comfortable on the hard court out there. John had a couple of chances there, [but] wasn't quite able to take it. He was too good tonight.
"Then [in the] Bautista Agut [match], Alex was on top early, and was playing great. Bautista Agut changed his game a little bit, and to his credit was able to get back into the match. In the end, it was some really quality tennis from both players, and Alex was unlucky to lose."
Carreno Busta returned to the court alongside Marcel Granollers to complete a 3-0 victory for Spain. Carreno Busta and Granollers won 83 per cent of their service points (44/53) to clinch a 6-4, 7-5 win against John Peers and Luke Saville.