Preview: Tsitsipas Chasing 'Something Spectacular' Against Djokovic
When Stefanos Tsitsipas walks onto Court Philippe-Chatrier for his first Roland Garros semi-final, the World No. 6 will be attempting to make the latest step in his rise to prominence on the ATP Tour.
Two years ago, the Greek announced his arrival with his first trophy in Stockholm and a title run at the Next Gen ATP Finals in Milan. Tsitsipas built on his 2018 campaign by starting the 2019 season with a first major semi-final appearance at the Australian Open and ended the year by lifting the biggest title of his career at the Nitto ATP Finals. On Friday, he will attempt to achieve another milestone moment in his career by reaching his maiden Grand Slam final.
"It's a dream, of course… I [have] expected since a young age to potentially triumph at these Grand Slams. I'm happy that I'm able to be in a position where I am today. It's very, very satisfying. I think I can learn from the previous [major semi-final in Australia]. I'm chasing something spectacular."
Tsitsipas' transformation from a #NextGenATP sensation to one of the best players on the ATP Tour has been one of the stories of the past three years. Since the start of the 2018 ATP Tour season, the Greek has reached 12 finals (5-7) and earned five wins against the Big Three of Novak Djokovic (2), Rafael Nadal (1) and Roger Federer (2). Tsitsipas will attempt to improve both those statistics in his next match.
"I would like to tell you that I'm not a Next Gen player any more," said Tsitsipas, after a reporter mistakenly labelled him as a #NextGenATP player. "I'm a proper adult… The Big Three have been there for a long time. I don't feel like it's going to be the same in five, six years' time."
In peak form, Tsitsipas will meet World No. 1 Djokovic for a final spot. The 22-year-old arrived in Paris later than most of his rivals, having contested the Hamburg European Open final on the same day the tournament began at Stade Roland Garros. After dropping the opening two sets in his first-round match against Jaume Munar, the six-time ATP Tour titlist has claimed four straight-sets wins on the Parisian terre battue.
"[Stefanos] is one of the best players in the world," said Djokovic. "[He is] deservedly where he is in [the] FedEx ATP Rankings. He's been playing the tennis of his life really in the past 12 months, winning [the] Nitto ATP Finals, just being very consistent on all surfaces with his results."
Aiming to become the youngest Grand Slam finalist since Juan Martin del Potro at the 2009 US Open, Tsitsipas has already proven he is capable of beating Djokovic. The Athens native owns two victories from five ATP Head2Head encounters against the 2016 champion, winning three-set battles at the 2018 Rogers Cup and last year's Rolex Shanghai Masters.
"[Stefanos] has an all-around game. He's a big guy, big serve," said Djokovic. "He has weapons, obviously serve and forehand, his backhand. He produces a lot of spin. He comes into the net. He can play aggressively. He can defend well because he moves well. He's really a complete, all-around player. I think he's one of the hardest-working guys out there."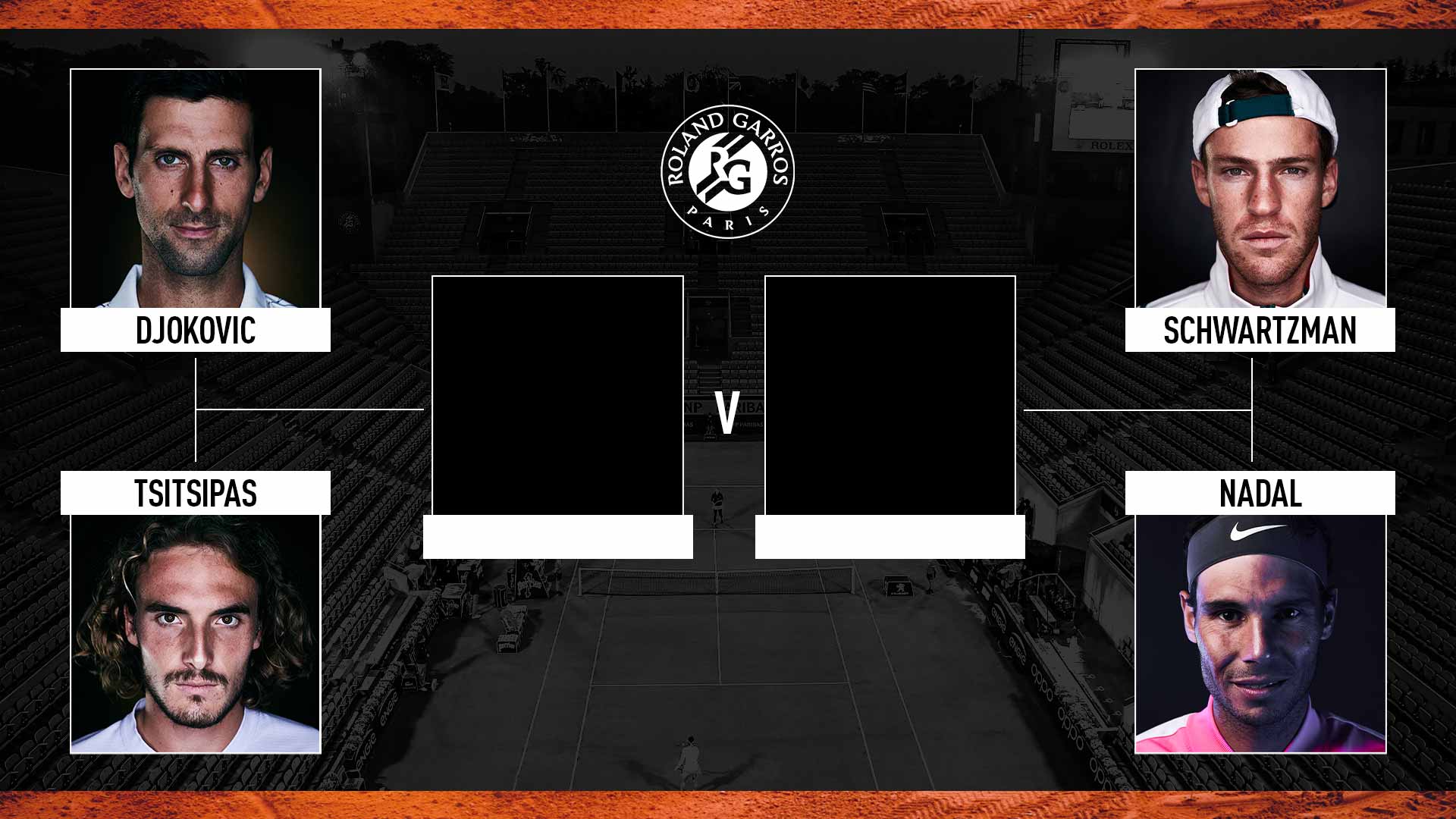 While Tsitsipas is attempting to break new ground, Djokovic is attempting to repeat past successes and improve his position in the record books. The Serbian is just two wins away from becoming the first man in the Open Era — and the third man in history — to lift each of the four Grand Slam titles on multiple occasions. If he captures his 18th Grand Slam crown in Paris, he will also narrow the gap on 20-time major champion Federer and 19-time Grand Slam titlist Nadal at the top of the major trophies leaderboard.
Djokovic is aware of the challenge that lies ahead. If he is to reach his fifth final at the clay-court major championship (1-3), he will have to overcome one of the best young talents on the ATP Tour.
"I expect a really tough, tough match, tough challenge for both of us," said Djokovic. "Semi-finals of [a] Grand Slam, this is what you expect. You expect to play a Top 5, Top 10 player. This is what I get. I'm hopefully going to be able to feel my best and play my best."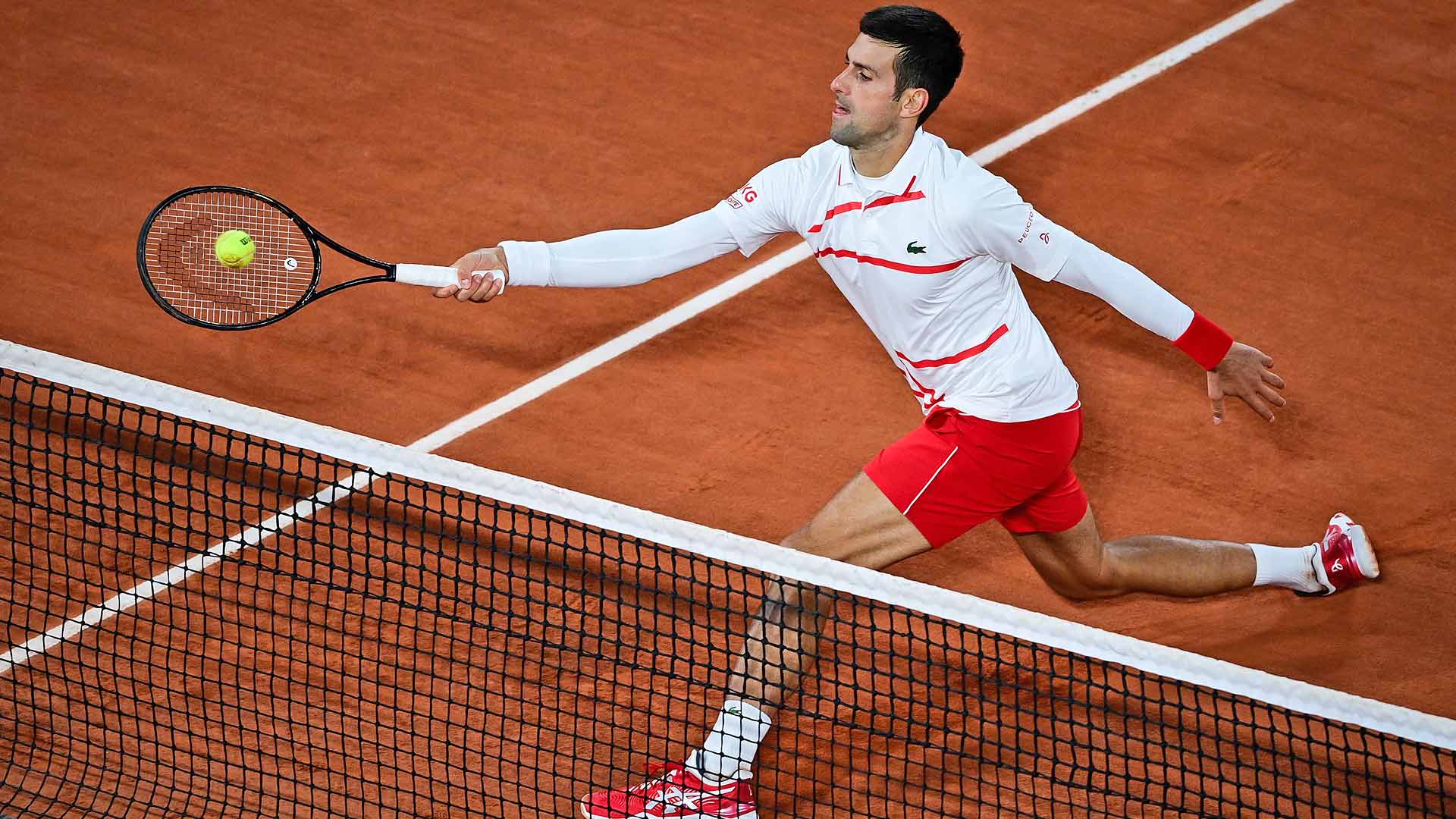 At this stage, Djokovic has risen to the occasion with astonishing consistency in recent years. Since the start of the 2015 ATP Tour season, the five-time year-end World No. 1 has won 12 of his 13 Grand Slam semi-finals.
There is still a glimmer of hope for Tsitsipas to take from that statistic. The only Grand Slam semi-final loss Djokovic has endured since 2015 came in his most recent last-four encounter at this event. Last year, across two days, Dominic Thiem claimed a memorable five set win against Djokovic to reach his second straight final in the French capital.
If Tsitsipas is to join Thiem by ending Djokovic's bid in Paris at the same stage this year, he knows he will have to stick to his game. His tactics have worked in the past and it they have been working for him throughout this event.
"I have to play the way I have to play… I'm approaching that match with the same intensity and the same focus that I've been doing the past few matches," said Tsitsipas.