Sleepless In The Big Apple: Thiem's Whirlwind 24 Hours
US Open champion Dominic Thiem still has not slept since his historic victory Sunday evening. The Austrian, who is the first player in the Open Era to rally from two sets down in the US Open final, is still on Cloud Nine more than 24 hours after he first walked inside Arthur Ashe Stadium to play Alexander Zverev for the title.
Thiem fell to the court in celebration at 8:19 p.m. Sunday evening, but he did not depart the USTA Billie Jean King National Tennis Center until around midnight. When the 27-year-old got back to the player hotel on Long Island, he shared a special treat with his team: margherita pizza!
The champion was back in a car by 7:30 a.m. to return to Flushing for his media day. He went on television shows and spoke to various media outlets about his triumph. While en route, Thiem did a phone interview with a magazine. When Thiem arrived on site, he ate açai for breakfast, which he did every day while in New York. At 8:30 a.m., he entered one of the corporate suites inside Arthur Ashe Stadium. By 9:10 a.m., he was live on national television for LIVE with Kelly and Ryan.
"We were celebrating a little bit in the hotel room. But we were all shattered. It was a tough match. Many, many emotions," Thiem said. "I think that if we would have been in the city like in normal years we would have done the same. I will do the big party in Vienna."
The show's hosts were wondering whether Thiem could eat pizza more often, or if he has to maintain a strict diet.
"Most of the time [I keep a strict diet]. I need to feel well on court. With pizza it's a little bit tough," Thiem said. "Of course I also need to keep my good body shape and it's easier without too much pizza."
What they didn't know is that Thiem also received a cake from one of his sponsors. It was certainly a worthy occasion!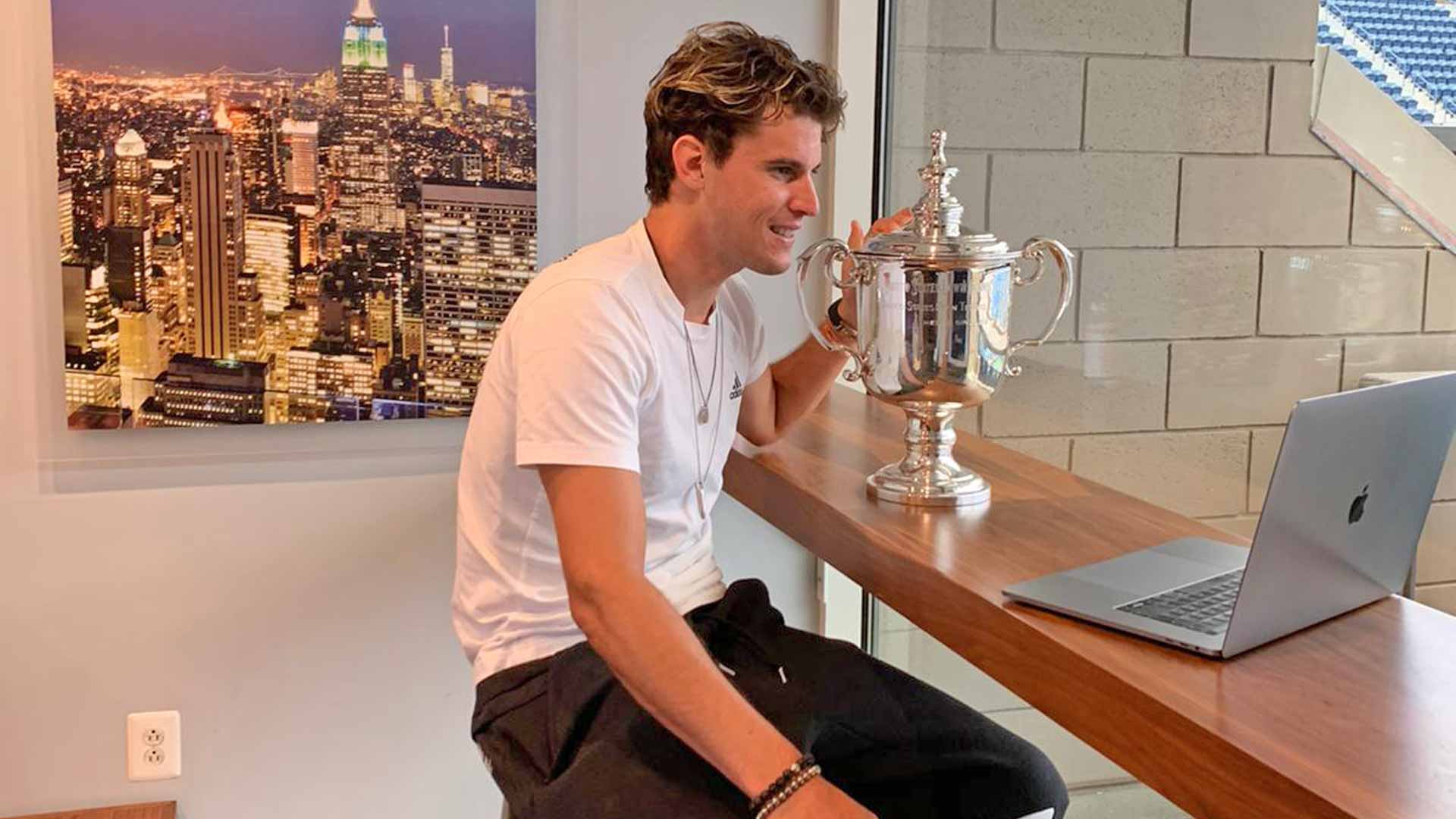 Thiem did several interviews throughout the morning, from local news show Good Day New York to a chat with folks at the New York Stock Exchange. In the background were the 23,000 empty seats that surround the US Open's centre court. That was where Thiem made his dream come true. This year, however, there were no fans because of the COVID-19 pandemic.
"When you go into the stadium and you see all the people, you hear the big roar, it gives you already so much energy. Yesterday we played for four hours. There are many ups and downs. You have to keep your full energy all the time and the crowd helps you with that," Thiem said. "Without the fans you have to do it all by yourself, which is pretty tough. Of course if you win a big match or a big title to celebrate with the fans… it's something very special and all that was missing, unfortunately."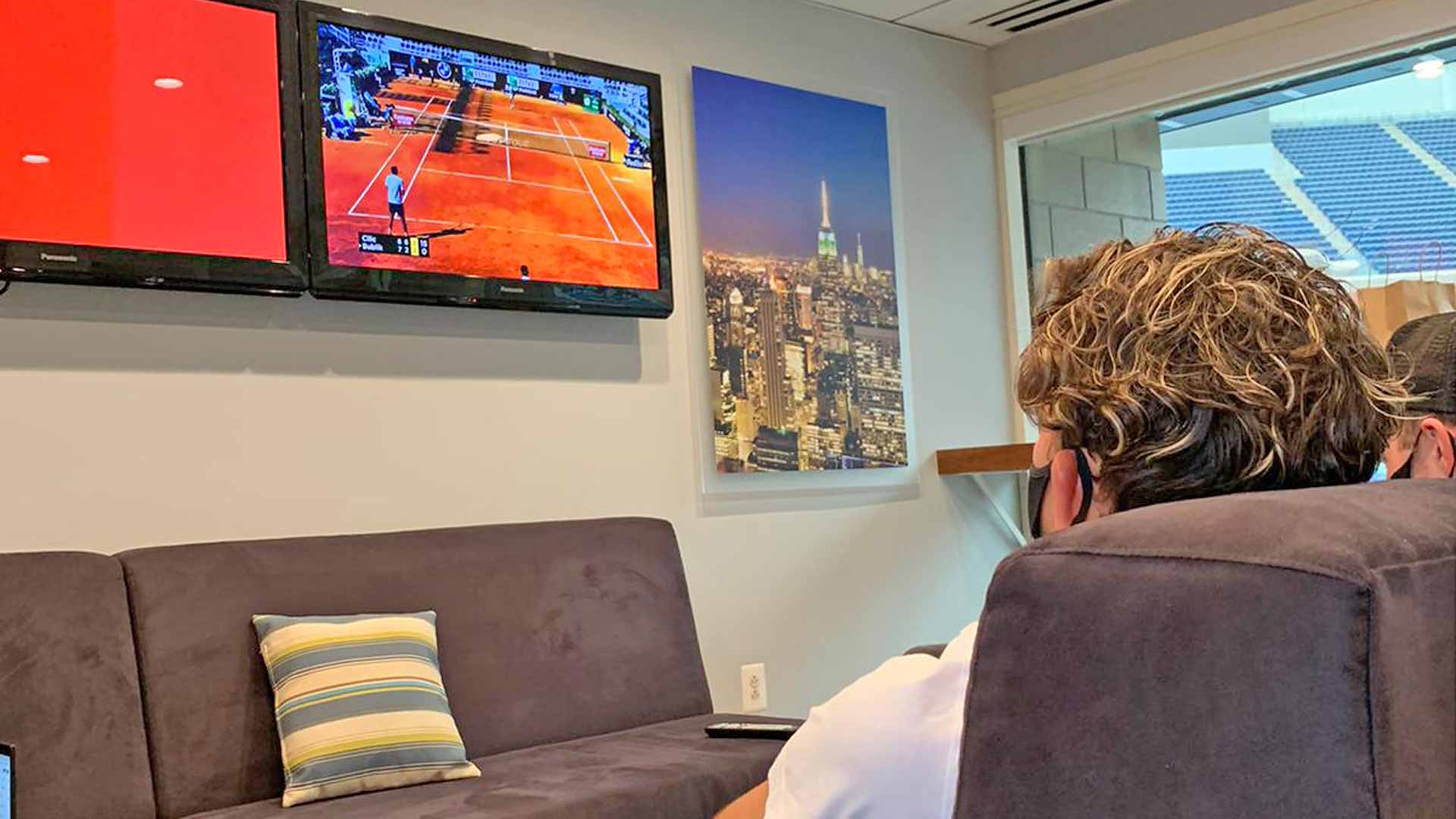 Inside Arthur Ashe Stadium's private suites, which seeded players were able to use from the start of the Western & Southern Open, are televisions. Between interviews, Thiem checked out the action going on in Rome at the Internazionali BNL d'Italia.
The Austrian will not be competing in the event, but he was happy to keep his eye on the matches at the ATP Masters 1000 event. He watched 2014 US Open champion Marin Cilic's comeback victory against Alexander Bublik. Ironically, Cilic was the last first-time Grand Slam titlist before Thiem.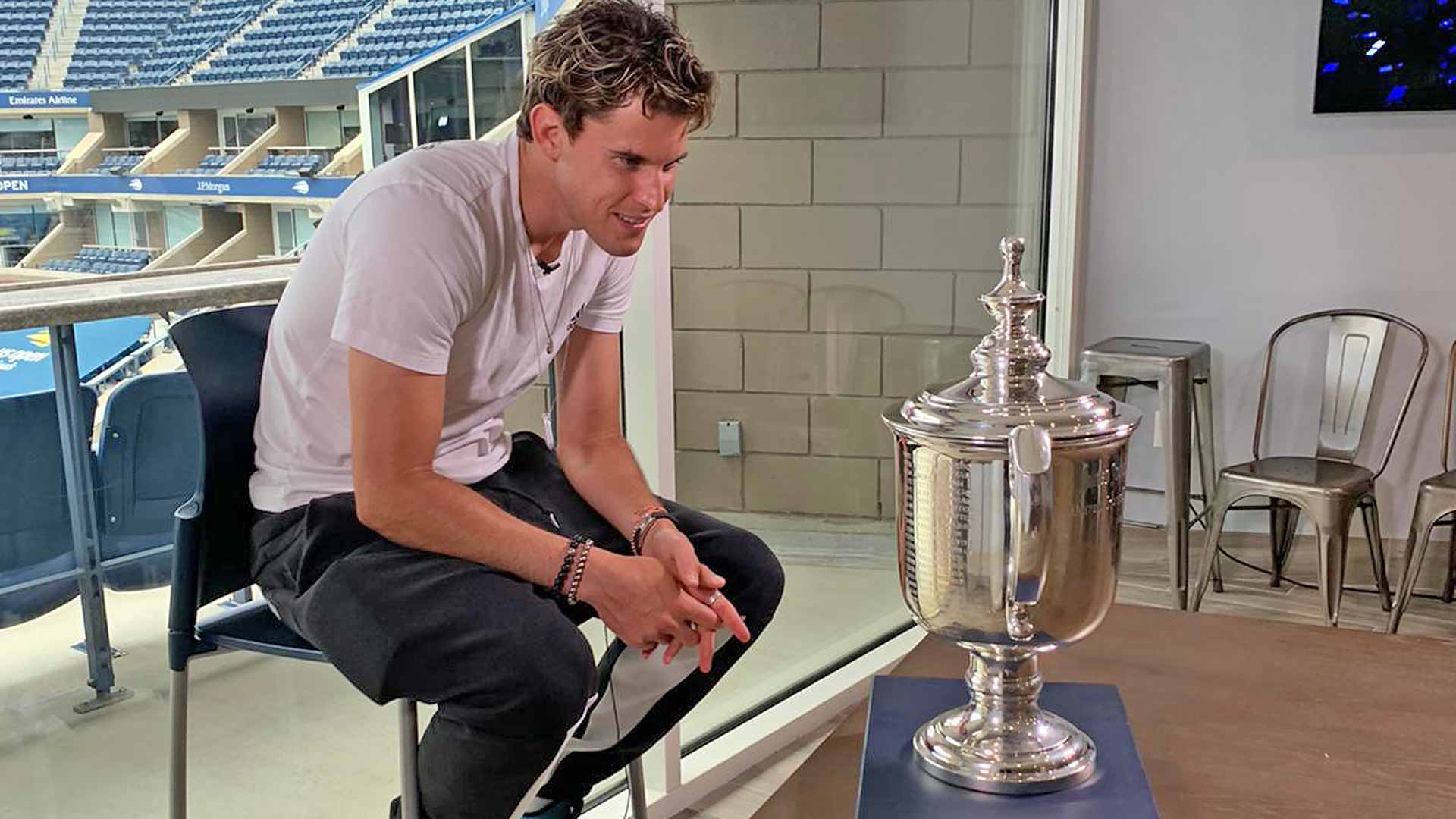 At one point, Thiem paused to look at his trophy. A big fan of tennis and its history, Thiem was examining all the names on his silver prize.
The new Grand Slam champion wrapped up his final interview around 1 p.m. and headed downstairs. His transportation was waiting to take him to the airport. Thiem is en route to Austria. He'll hope to finally get some sleep and enjoy the fruits of his labour.
Look below for a sampling of the world's reaction to Thiem's victory:
Great work @ThiemDomi and a well deserved run to the final of another major. I'm really looking forward to your match with @AlexZverev. As you said, you are great friends and great rivals. It will make for another great #USOpen final! 🚀 https://t.co/6mpf1UgIdW

— Rod Laver (@rodlaver) September 12, 2020
Thank you all for your support 🏆😀❤️ dreams come true 🙏 #trusttheprocess @usopen 🗽NYC
✈️ Soon Europe pic.twitter.com/a2wbyfDIWz

— Nicolas Massu (@massunico) September 14, 2020
This is what sport is all about. Respect, appreciation and friendship. Thank you 🙏🏼 Domi and Sasha for standing strong for your character values and seeing always what matters the most – love & respect for each other. Congratulations to both of you. @ThiemDomi @AlexZverev #USOpen pic.twitter.com/BrqUr06CS5

— Novak Djokovic (@DjokerNole) September 14, 2020
How's it feel @ThiemDomi? 🎉😁 Congrats & enjoy it!!! 👏🎉🏆💪

— Marin Cilic (@cilic_marin) September 14, 2020
Welcome to the club(grand slam champion)Dominic Thiem 👏👊

— Kafelnikov Yevgeny (@KYevgeni) September 14, 2020
Congratulations to Chelsea fan, @ThiemDomi after clinching his first ever Grand Slam title! 👏 #USOpen https://t.co/GUyz5zvf19

— Chelsea FC (@ChelseaFC) September 14, 2020